View All Articles
Meet Daisy-Mai – An Orlando Health Pet Therapy Dog
Daisy-Mai, my eight-pound Pomeranian, was born to be a pet therapy dog. Our journey began the day she climbed into my sister-in-law, Nicole's, lap and cuddled up into a fluffy ball, begging to be pet and loved. As Nicole stroked Daisy's soft, silky fur and soaked in her gentle sweetness, she had the sudden thought that Daisy should become a therapy dog. I immediately agreed, which led to Daisy becoming a part of the Orlando Health Pet Therapy Program.
I began by surfing the internet to find out everything I could about therapy dogs and what was involved in becoming a volunteer. There was a lot of information to digest and a myriad of things to do, but what stood out the most, was that I knew Daisy could meet the requirements on the list.
After completing my research, I set up an initial meeting with a tester-observer. From that first day until our final exercise a few months later, Daisy met every goal and followed all directives with ease. We then qualified and became a registered "team" (therapy dog and handler) with the Alliance of Therapy Dogs.
Volunteering to do pet therapy in a pediatric hospital seemed like the perfect fit with Daisy being great around children and my experience as an elementary school teacher and manager of a medical practice. Then I wondered if we would be lucky enough to volunteer at Orlando Health's pediatric facility, Arnold Palmer Hospital for Children. After filling out an application, we received a request for an interview within a few days. It turned out they had been looking for a small dog at the time, and Daisy just endeared herself to everyone – she has a habit of doing that!
Daisy and I began volunteering at Arnold Palmer Hospital as a pet therapy team in May 2012. We joined in with the other Orlando Health downtown hospitals when they had pet therapy events with their teams. It was great getting to meet with the Orlando Regional Medical Center (ORMC) teams. It wasn't before long that Daisy caught the attention of the volunteer services staff there, and we soon began visiting patients at ORMC and the UF Health Cancer Center – Orlando Health.
When ORMC opened its doors to save the lives of many of the victims of the Pulse nightclub shooting, Daisy heard the call. We were able to provide pet therapy to these victims in their time of need. Daisy worked tirelessly through those weeks the victims were hospitalized. She spent hours visiting patients who came to know her by name and even requested more visits. Although it was a very sad and difficult time in the lives of those patients, Daisy was always able to bring smiles to their faces and cheer up the room.
Participating in pet therapy with Daisy has made a significant difference in my life. It has allowed me the opportunity to help ease the pain and bring a small amount of happiness into the lives of those in need.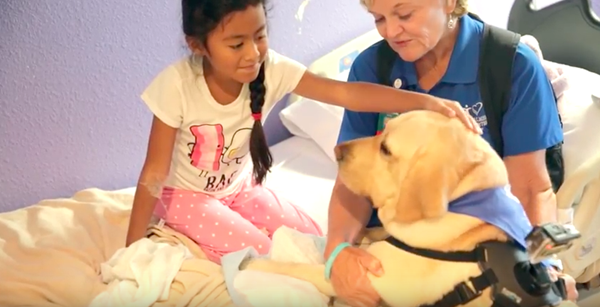 Are you interested in learning more about Orlando Health's Pet Therapy Program?
We are grateful for our pet therapy volunteers and their dogs. We currently have 60 pet therapy teams visiting patients at 6 different Orlando Health hospitals. If you are an Orlando Health patient or family member and would like a visit from one of our loving therapy dogs ask your nurse to submit a request to the Volunteer Services office.

Learn More Here