View All Articles
New NIH-Funded Initiative Will Help ORMC Advance Emergency Medicine Research
Trauma is the leading cause of death for people between the ages of 1 to 46, and on average there are about 141 million visits to the emergency room, 40 million of which are injury-related.
Emergency rooms and trauma centers are busy places, especially when patients need lifesaving care. Performing clinical trials or research in an ER or trauma center is really difficult, but a new initiative funded by the National Institutes of Health (NIH) is seeking to change that.
The initiative, called the Strategies to Innovate Emergency Care Clinical Trials Network (SIREN), will advance critical emergency medicine research. SIREN is structured as a hub and spoke network where several hospitals, research institutions and other care facilities will perform high quality multi-site clinical trials and share their research and learnings with one another to improve emergency and trauma care for patients.
SIREN seeks to improve outcomes for patients who experience cardiac, hematologic, neurologic, respiratory and trauma emergency issues in every stage of emergency care. The network also will allow participating centers and hospitals to test innovative therapies and potentially surface new treatment approaches that could be effective for patients. The structure of the network will include one clinical coordinating center, a data coordinating center and 11 clinical centers, or hubs.
Orlando Regional Medical Center is proud to be a part of this effort to advance emergency medicine research. Our Department of Emergency Medicine has partnered with five other experienced institutions, including Emory University, Brown University, Tufts University, University of Texas Health Science Center at Houston and the University of Arizona to create the Coalition for Research in Emergency Medicine (CORE-EM) Hub Alliance, one of 11 SIREN-funded clinical hubs in the country, which will cover most of the Southeast.
I'm honored to lead our Orlando Health team and other academic centers in Florida as part of this initiative, and I know that the robust clinical infrastructure we've already established will enable CORE-EM to do more impactful work.
Initiatives like SIREN allow us to dedicate time and effort to solving some of our country's care challenges. The funding NIH provides is so important because it can produce research that has a lasting impact on patient care. We also get to work collaboratively with other institutions and medical centers, pooling the best and brightest minds in the country together to come up with effective solutions. SIREN shows that the sum truly can be bigger than its parts, and by working together we can accomplish so much more.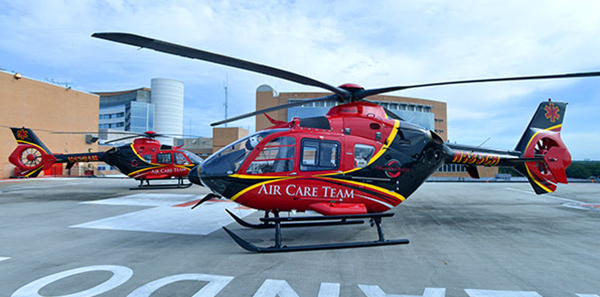 Are you interested in learning more about our Emergency and Trauma Care?
Emergencies can happen anytime, anywhere. Which is why all Orlando Health hospitals are equipped and staffed to handle any emergency situation — big or small. Our team of physicians are all board certified in emergency medicine, and are here for you, 24 hours a day, seven days a week. We are also proud to offer Central Florida's only Level One Trauma Center, located at Orlando Health Orlando Regional Medical Center.
Learn More Here