Photo caption: This was taken in 2016.
Orlando, Fla. (November 17, 2022) – The Orlando Health corporate sign that became a place of reflection and remembrance to honor the 49 people killed during the Pulse nightclub tragedy on June 12, 2016, will become part of the collection of the National Pulse Memorial & Museum. The prominently positioned sign, located adjacent to Lake Beauty on the southwest corner of Orange Avenue and Miller Street on Orlando Health's downtown campus will be donated to the onePULSE Foundation. A special conveyance ceremony is scheduled for 10 am Thursday, November 17, 2022. The ceremony will culminate with the deconstruction of the prominent sign.
The ceremony will include remarks from David Strong, president and CEO, Orlando Health; Andrew J. Snyder, senior vice president, Marketing and Strategic Communications, Orlando Health, and onePULSE Foundation board member; Heather Fagan, Chief of Staff for Orlando Mayor Buddy Dyer; Roseann Harrington, Chief of Staff for Orange County Mayor Jerry L. Demings; and Deborah Bowie, onePULSE Foundation executive director.
"Inside our walls, the Orlando Health team came together to deliver medical treatment to the critically injured and to provide support to patients' family members and loved ones, as well as each other," said David Strong, president and CEO, Orlando Health. "Outside our walls the support continued as many would gather at the site surrounding our sign. For team members and the community at large, the area became a memorial site to mourn and reflect. Individuals expressed their emotions by leaving candles, flowers, balloons, teddy bears, messages, and other items to remember those whose lives were taken and to help the community mourn and heal."
The donation will become part of the onePULSE Foundation's mission to create and support a memorial that opens hearts, a museum that opens minds, educational programs that open eyes, and legacy scholarships that open doors.
"Orlando Health has been a valued partner to the Pulse-affected community since June 12, 2016, and that commitment hasn't wavered since then in supporting us in our journey of healing," said Deborah Bowie, executive director of onePULSE Foundation. "It's what they do best and this sign will forever be a reminder of the critical role that the Level One Trauma Center team members at Orlando Health ORMC played in responding to the tragedy."
"We are proud that the Orlando Health Survivors Walk will be a pilgrimage of empathy and compassion and that it will serve as a public acknowledgement of the private, life-long journey those impacted by the tragedy have made and will continue to make toward healing. We take comfort in knowing the walkway will offer moments of reflection, respite, and human connection."
Orlando health is honored to come together again as a community for the sign conveyance ceremony.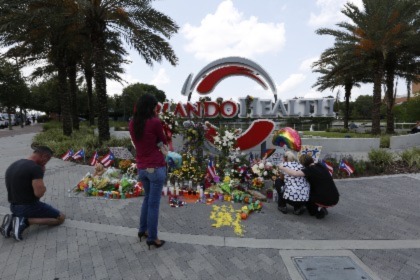 "What started as a sign to welcome the community to our campus became the marker of a place the community gathered for healing during a difficult time," said Andrew J. Snyder, senior vice president, Marketing & Communications, Orlando Health, and a onePULSE Foundation board member. "As we continue to move forward in the healing process as a community, it is our honor to contribute the sign, in remembrance of those no longer with us, to the collection of the National Pulse Memorial & Museum."
Plans are also underway to donate the 49 commemorative pavers that line the Pulse memorial garden at Lake Beauty. The pavers, each of which is engraved with the name of someone whose life was taken the tragedy, will be removed and treated with sealants for preservation purposes before being donated to the onePULSE Foundation.
In July 2016, Orlando Health donated 49 Pulse Tribute Crosses to the Orange County Regional History Center. The crosses, which lined the sidewalk on the north side of Lake Beauty, became a memorial in recognition of the 49 shooting victims. They were designed by Illinois artist Gary Zanis, who passed away in 2020.
Orlando Health's response to the Pulse nightclub tragedy
In responding to the Pulse nightclub incident on Sunday, June 12, 2016, Orlando Health treated nearly 50 patients. Of those, 44 were treated at the Level One Trauma Center at Orlando Health ORMC. In the first wave of patients, 36 arrived in 36 minutes. In the first 24 hours, 28 trauma surgeries were completed with operating rooms in use simultaneously throughout the day. By early September 2016, all 35 patients who survived had been discharged from the hospital. More than 1,200 team members participated in post trauma support sessions. Since the tragedy, Orlando Health has provided nearly $12 million in unbilled charges for Pulse victims.
About Orlando Health
Orlando Health, headquartered in Orlando, Florida, is a not-for-profit healthcare organization with $8.1 billion of assets under management that serves the southeastern United States.
Founded more than 100 years ago, the healthcare system is recognized around the world for Central Florida's only pediatric and adult Level I Trauma program as well as the only state-accredited Level II Adult Trauma Center in Pinellas County. It is the home of the nation's largest neonatal intensive care unit under one roof, the only system in the southeast to offer open fetal surgery to repair the most severe forms of spina bifida, the site of an Olympic athlete training facility and operator of one of the largest and highest performing clinically integrated networks in the region. Orlando Health has pioneered life-changing medical research and its Graduate Medical Education program hosts more than 350 residents and fellows.
The 3,238-bed system includes 23 hospitals and emergency departments – 18 of which are currently operational with five coming soon. The system also includes nine specialty institutes, more than 100 adult and pediatric primary care practices, skilled nursing facilities, an in-patient behavioral health facility under the management of Acadia Healthcare, and more than 60 outpatient facilities that include imaging and laboratory services, wound care centers, home healthcare services in partnership with LHC Group, and urgent care centers in partnership with FastMed Urgent Care. More than 4,000 physicians, representing more than 100 medical specialties and subspecialties have privileges across the Orlando Health system, which employs more than 25,000 team members and more than 1,200 physicians.
In FY22, Orlando Health served nearly 142,000 inpatients and 3.9 million outpatients. The healthcare system provided more than $782 million in total value to the communities it serves in the form of charity care, community benefit programs and services, community building activities and more in FY 21, the most recent period for which this information is available. Additional information can be found at http://www.orlandohealth.com, or follow us on LinkedIn, Facebook, Instagram and Twitter @orlandohealth.
About onePULSE Foundation
onePULSE Foundation is the official 501(c)(3) nonprofit incorporated to manage the design and construction of the permanent national memorial and museum dedicated to the PULSE tragedy.
onePULSE's mission is to create and support a national memorial that opens hearts, a museum that opens minds, educational programs that open eyes and legacy scholarships that open doors. Its vision is to establish a sanctuary of healing and a beacon of hope by memorializing the lives taken, the lives saved, and all the lives affected by the Pulse nightclub tragedy of June 12, 2016 – ensuring Pulse's legacy of love lives on forever. For more information, visit https://onePULSEfoundation.org/.