Orlando Health Reimagines South Seminole Hospital Campus as a Healthcare Hub for Longwood
Plan Includes a New Free-Standing Emergency Department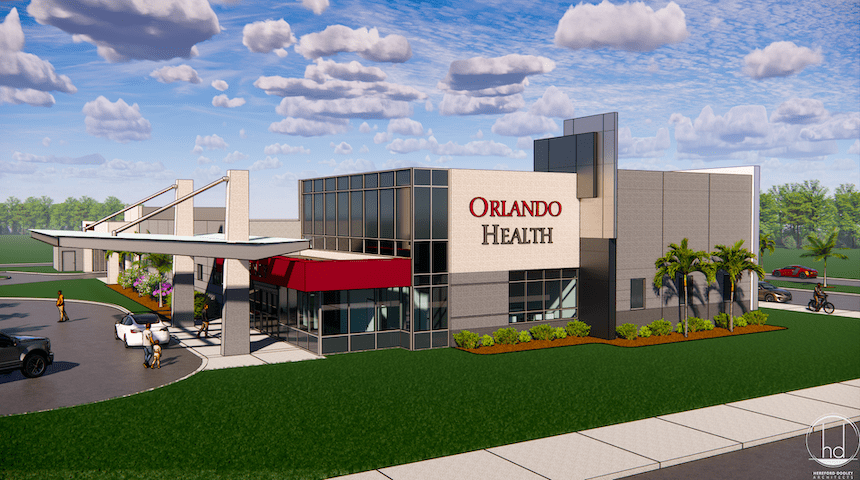 Longwood, FL (September 15, 2022) – Orlando Health today unveiled plans to reimagine its current Seminole County campus as a healthcare hub in downtown Longwood, anchored by a new free-standing emergency department (FSED).
Plans call for the FSED to be built and ready to serve the community in the summer of 2024, concurrent with the closure of Orlando Health South Seminole Hospital and the opening of the new Orlando Health Lake Mary Hospital.
Leaders at Orlando Health and officials with the City of Longwood are working together to create a destination for residents that complements the redesigned Reiter Park. The current campus is envisioned to include a 15-acre town center for the City of Longwood comprising a high-quality mix of multi-family residential, retail and office uses.
"We're very proud of our nearly 40-year history here in Longwood as a hospital caring for so many people in our community and as one of the largest employers in the area," says Shawn Molsberger, senior vice president of Orlando Health's northeast region and president of Orlando Health South Seminole Hospital. "Working closely with the city, we're making an investment into our community that allows us to continue providing a high level of care while bringing in new amenities that will further enhance the quality of life for Longwood residents."
Most of the Longwood campus will be redeveloped, leaving two existing medical office buildings to continue offering important services such as cardiology, pulmonology, rehabilitation, general surgery, infectious disease, and urology. Plans are also underway to relocate behavioral health services at South Seminole Hospital to a new Central Florida location, where Orlando Health will develop a new dedicated facility to allow for greater access to clinical mental health services. An announcement on the new behavioral health project is expected soon. Construction on the new Longwood FSED is expected to begin in early 2023.
About Orlando Health
Orlando Health, headquartered in Orlando, Florida, is a not-for-profit healthcare organization with $8 billion of assets under management that serves the southeastern United States.
Founded more than 100 years ago, the healthcare system is recognized around the world for Central Florida's only pediatric and adult Level One Trauma program as well as the only state-accredited Level Two Adult Trauma Center in the St. Petersburg region. It is the home of the nation's largest neonatal intensive care unit under one roof, the only system in the southeast to offer open fetal surgery to repair the most severe forms of spina bifida, the site of an Olympic athlete training facility and operator of one of the largest and highest performing clinically integrated networks in the region. Orlando Health has pioneered life-changing medical research and its Graduate Medical Education program hosts more than 350 residents and fellows. The 3,200-bed system includes 10 award-winning hospitals, 9 hospital based ERs, and 7 free-standing emergency rooms; rehabilitation services, cancer and heart institutes, imaging and laboratory services, wound care centers, physician offices for adults and pediatrics, skilled nursing facilities, an in-patient behavioral health facility, home healthcare services in partnership with LHC Group, and urgent care centers in partnership with FastMed Urgent Care. More than 4,200 physicians, representing more than 100 medical specialties and subspecialties have privileges across the Orlando Health system, which employs more than 23,000 team members. In FY21, Orlando Health served more than 160,000 inpatients and 3.6 million outpatients. During that same time period, Orlando Health provided approximately $648 million in total value to the communities it serves in the form of charity care, community benefit programs and services, community building activities and more. Additional information can be found at http://www.orlandohealth.com, or follow us on LinkedIn, Facebook, Instagram and Twitter @orlandohealth.