Hospital reports significant changes in its first year of new leadership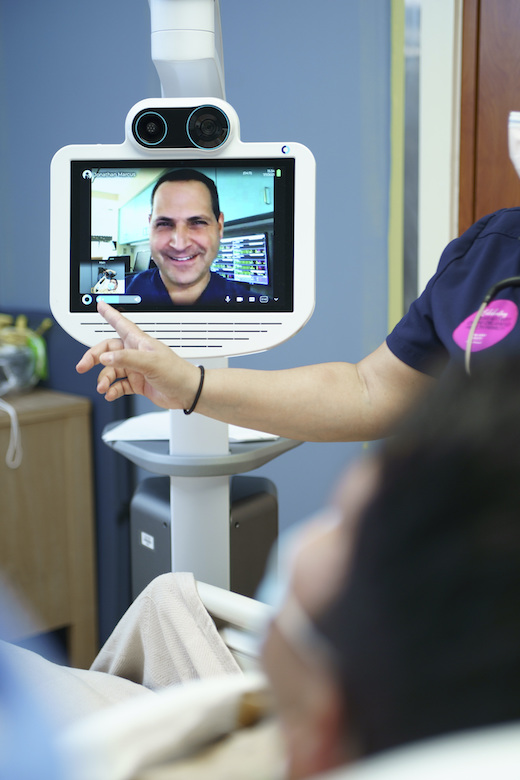 St. Cloud, FL (August 24, 2021) – Today, Orlando Health St. Cloud Hospital is announcing several, major milestones that were implemented over the last year to enhance patient care, increase efficiencies for physicians and other clinicians, and modernize the facility. These achievements vary from the opening of a medical pavilion to completing a master plan that paves the way for campus development over the next 10 years. The various milestones, which happened following the full acquisition by Orlando Health, play a significant role in offering quality healthcare closer to home for patients in St. Cloud and the wider Osceola County.
"Prior to Orlando Health having acquired the hospital, we recognized that some residents, uncertain about this facility, sought healthcare elsewhere," said Thibaut van Marcke, senior vice president of Orlando Health's Southeast Region. "As soon as we assumed operations, we engaged in a full assessment of the hospital to determine what required our immediate attention and, without delay, began to address those challenges."
After taking over operations on July 1, 2020, all Orlando Health St. Cloud patients began receiving the same level of care as any other patient across the healthcare system with the integration of clinical practices. Orlando Health St. Cloud also achieved the following, which are just a few examples of the milestones that improved experience and clinical outcomes at the hospital.
Medical Pavilion. The Orlando Health Medical Pavilion – St. Cloud is a 50,000 square feet, two-story building on the hospital's campus. It comprises the St. Cloud Medical Group physician practices, a walk-in clinic with extended hours and an outpatient lab.
Comprehensive Health Record. The new comprehensive health record system from Epic along with the MyChart portal feature allows health data to be streamlined across the system. Clinicians and patients can now stay connected and efficiently manage care.
Telemedicine Cart. This is a system that integrates a camera, display and network access to bring a remote physician to the patient's bedside. The new tele intensivist robot has been nicknamed 'Edward' and was setup in the hospital's intensive care unit.
Vaccination Program. Back in December 2020, the hospital began administering the COVID-19 vaccine as part of its efforts to decrease the incidence of COVID-19 in St. Cloud and the broader community.
Facility Upgrades. Over $1.5M has already been invested in purchasing new medical devices and instruments, as well as beautifying the hospital campus. Additional investments will be made over the next five years.
Master Plan. The hospital completed a facility master plan. This plan establishes a framework for campus growth and development of capital improvements over the next 10 years.
"These were all very important achievements for the growth of Orlando Health St. Cloud Hospital," Mr. Van Marcke added. "Collectively, they will ensure our physicians and healthcare teams are equipped to serve our patients well and deliver a world-class experience."
About Orlando Health
Orlando Health, headquartered in Orlando, Florida, is a not-for-profit healthcare organization with $7.6 billion of assets under management that serves the southeastern United States.
Founded more than 100 years ago, the healthcare system is recognized around the world for its pediatric and adult Level One Trauma program as well as the only state-accredited Level Two Adult Trauma Center in the St. Petersburg region. It is the home of the nation's largest neonatal intensive care unit under one roof, the only system in the southeast to offer open fetal surgery to repair the most severe forms of spina bifida, the site of an Olympic athlete training facility and operator of one of the largest and highest performing clinically integrated networks in the region. Orlando Health is a statutory teaching system that pioneers life-changing medical research. The 3,200-bed system includes 15 wholly-owned hospitals and emergency departments; rehabilitation services, cancer and heart institutes, imaging and laboratory services, wound care centers, physician offices for adults and pediatrics, skilled nursing facilities, an in-patient behavioral health facility, home healthcare services in partnership with LHC Group, and urgent care centers in partnership with CareSpot Urgent Care. Nearly 4,200 physicians, representing more than 80 medical specialties and subspecialties have privileges across the Orlando Health system, which employs nearly 22,000 team members. In FY20, Orlando Health served nearly 150,000 inpatients and nearly 3.1 million outpatients. During that same time period, Orlando Health provided approximately $760 million in total value to the communities it serves in the form of charity care, community benefit programs and services, community building activities and more. Additional information can be found at http://www.orlandohealth.com, or follow us on LinkedIn, Facebook, Instagram and Twitter @orlandohealth.