View All Articles
Reducing The Sodium in Your Diet is Easier Than You Think
As I discussed in my previous blog, "The Decline of Salt? A Look at America's Eating Habits," consuming too much sodium in your diet can increase the risk of developing or worsen several health issues, especially high blood pressure or hypertension. Sodium is a mineral essential for life, and needed in the right amounts for different functions in our bodies. In general however, most people will benefit from decreasing the total milligrams of sodium they consume daily. Always check with your doctor or registered dietitian nutritionist to know the amount that is right for you.
For people who have grown up adding table salt to many of their foods, battling the craving can be a challenge. Also, we all know now from the previous blog post that there's a lot of hidden sodium in several foods that you might not have thought about before, such as processed meats, soups, pizza, salty snacks, pasta and bread. Even though these items may not taste salty, the sodium is hiding in there. Remember to read your food labels as a guide!
The good news is that while it might take a little time and will power, you can change your habits and break the addiction to salt and high sodium foods by spicing up your meals with a few alternative flavorings.
For example, when preparing protein items like beef, chicken, pork, fish or eggs, add garlic powder or onion powder to your recipe while cooking, and then season with black pepper before you eat. You can also limit sodium by flavoring food with onions, garlic, rosemary, tarragon, mushrooms, lemon, paprika and several other spices. Look for desserts that do not have high amounts of sodium or make your own at home. Below you will find one of my fun favorites, chocomole, made with cocoa and avocados!
To get you started, here are a few of my favorite healthy and delicious low-sodium recipes:
Heart-Healthy Cowboy Caviar
Ingredients (use no added salt or low/reduced sodium for canned items)
1 15oz. can black beans, drained and rinsed
1 15oz. can black-eyed peas, drained and rinsed
1 cup diced Roma tomato (about 2 tomatoes)
1 cup frozen corn kernels, lightly steamed
1 cup diced red bell pepper (about 1 pepper)
½ cup diced red onion
1 cup cilantro leaves, chopped
2 tbsp. red wine vinegar
½ tsp. garlic powder
½ tsp. dried oregano
½ tsp. dried basil
¼ tsp. chili powder
¼ tsp. ground black pepper
¼ cup extra virgin olive oil
1 avocado, diced (add right before serving)
Tortilla chips, pita bread, or romaine lettuce base for serving
Directions
In a large mixing bowl, combine the beans, black-eyed peas, tomato, corn, pepper, onion and cilantro. Mix well.
In a small bowl combine the vinegar, garlic powder, oregano, basil, chili powder and black pepper. Whisk until blended. Slowly add the olive oil, whisking to combine. Pour the dressing over the dip and toss to coat. Refrigerate for at least 15 minutes to bring out the flavors.
May be served with tortilla chips, pita bread, or on top of a salad.
Modified from recipe available on http://www.foodiegirlchicago.com
Ingredients
2 tbsp. sesame seeds
1 tsp. ground coriander
1/8 tsp. cayenne pepper
1/8 tsp. celery seed
½ tsp. minced onion
¼ tsp. ground cumin
1/8 tsp. ground cinnamon
1 tbsp. sesame oil
1 pound pork tenderloin, sliced into 4 4-ounce portions
Directions
Preheat the oven to 400˚ F.
Lightly coat a baking dish with cooking spray.
In a heavy frying pan, add the sesame seeds in a single layer. Over low heat, cook the seeds, stirring constantly until they look golden and give off a noticeably toasty aroma, about 1 to 2 minutes. Remove the seeds from the pan to cool.
In a bowl, add the coriander, cayenne pepper, celery seed, minced onion, cumin, cinnamon, sesame oil and toasted sesame seeds. Stir to mix evenly.
Place the pork tenderloin in the prepared baking dish. Rub the spices on both sides of the pork pieces.
Bake until no longer pink, about 15 minutes. Or bake until a meat thermometer reaches 165˚ F (medium) or 170˚ F (well-done).
Transfer the pork tenderloin to warmed plates. Serve immediately.
Chocomole
Ingredients
1 avocado
9 dates (pitted)
½ tsp. vanilla
4 tbsp. cocoa powder
½ cup milk
Directions
Peel and discard the seed and skin of the avocado. Put all ingredients in a blender. Blend and enjoy! Add fresh fruit, such as berries, and/or walnuts for added fiber, antioxidants, protein and healthy fats.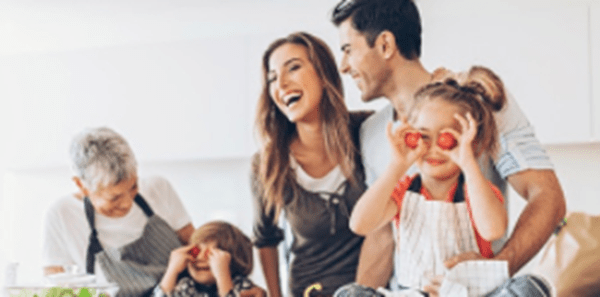 We Build Relationships
We believe that maintaining a healthy lifestyle is the key to living a longer, healthier life. Orlando Health Physicians strive to build a relationship with each patient. Request an appointment with one of our primary care physicians with offices located throughout Central Florida.
Schedule an Appointment