View All Articles
Survival Tips for Managing ADHD at Work
ADHD, or attention deficit/hyperactivity disorder, is a mental disorder that affects between five percent and 11 percent of children in the United States. For some kids, the symptoms of ADHD—inattention, impulsiveness, self-focused behavior—dissipate as they reach adulthood. But for others, the symptoms continue.
Four percent of adults, or eight million Americans, have ADHD. That statistic may be low, because ADHD can go unrecognized in childhood. Adults may have struggled all of their lives with symptoms such as difficulty concentrating, lack of motivation, etc., without realizing ADHD was the cause.
For a child with ADHD, it can be chaotic trying to manage school work, chores and other responsibilities. For an adult with ADHD, balancing a job, paying bills, having a family and running a household can be challenging. These tips may help tame some of the most challenging aspects of adult ADHD.
Make it easy to concentrate
At work, create an environment where it's easy to focus. If your desk faces an internal window, turn it away, so it faces the wall. In a cubicle? Find out if you can switch to one on the end or in the back, away from the walkways and noise.
When working, minimize distraction. Set your phone on silent and turn off email and text notifications. If needed, use noise-cancelling headphones.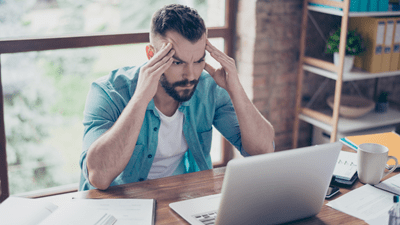 Control clutter on your desk so you can concentrate on one thing at a time.
Organize your work
Routines will be key to helping you manage your day. Use lists (either on paper or on your phone) of important tasks and check them off when they are completed.
Develop routines, such as opening and responding to emails first thing during the day and then again at lunchtime.
Use calendar apps to help you remember meetings and other events and add a reminder to ensure you leave on time.
Remember self-care
Keeping yourself in good physical condition makes it easier to manage the symptoms of ADHD. Getting enough sleep, eating well and exercising are important to maintaining your health.
Coping with symptoms
Understand ADHD and work with your doctor and your support system to develop the best plan to cope with symptoms. In addition to the disorder's well-known symptoms, you may experience others such as restlessness, mood swings, difficulties multitasking and a low threshold for frustration.
Recognizing these symptoms as they occur is important in creating a plan that helps manage them. Although ADHD is often treated with medication, options such as cognitive behavioral therapy may help you better manage any symptoms.
ADHD often coexists with other mental disorders such as anxiety disorder, depression or bipolar disorder.
Adults may have struggled all of their lives with symptoms such as difficulty concentrating, lack of motivation, etc., without realizing ADHD was the cause.
Anticipate trouble spots
You can't prepare for everything, but you can think ahead and look for accommodations for known stumbling blocks. If you have to attend a lengthy meeting, sit near the aisle or door, where you can quietly get up and walk around or stand in the back of the room, if necessary.
Keep a notepad handy so you can write down initial thoughts, instead of interrupting. Also, minimize fidgeting by taking notes.
Help others understand
To your level of comfort and interest, help people understand adult ADHD so they realize that managing it is not a matter of willpower or concentration.
Helpguide.org, a resource for mental and emotional health, provides additional information for managing many aspects of adult ADHD.
We Build Relationships
We believe that maintaining a healthy lifestyle is the key to living a longer, healthier life. Orlando Health Physicians strive to build a relationship with each patient. Request an appointment with one of our primary care physicians with offices located throughout Central Florida.
Request an Appointment Today