View All Articles
Tips To Make Roads Safer for Walkers and Cyclists
As the weather cools down, you might be thinking about heading outdoors to get some exercise.
During National Pedestrian Safety Month in October, it's also a good time to be thinking more about making roads safer for walkers and cyclists.
In Florida, there's a lot to think about. We're the second-deadliest state in the nation for traffic deaths, behind only New Mexico. Our 2020 pedestrian death rate far exceeded the national rate. And four of the top eight deadliest metro areas in the country are in Florida.
It doesn't have to be that way. A few simple, common-sense steps by motorists and pedestrians would go a long way toward reducing the number of deaths and severe injuries that hospital trauma doctors see on a regular basis.
The Injuries and the Victims
The violence of a car striking a person walking or cycling can result in devastating injuries, often to the head, legs, pelvis, ribs and spinal column.
Many of those who survive have injuries that bring life-altering results, ranging from amputations to paralysis to traumatic brain injury.
The Centers for Disease Control and Prevention estimates more than 7,000 pedestrians were killed by vehicles in 2020, and more than 100,000 people were injured. The previous year's statistics show that alcohol use — by both motorists and pedestrians — were a factor in nearly half of the crashes that led to pedestrian deaths.
Certain groups, including Americans over age 65, accounted for a disproportionately high number of pedestrian fatalities. The same is true with people of color. Most of the pedestrian deaths in 2020 occurred in urban areas and at night.
One heartbreaking but too common example of deaths and injuries are motorists-turned-pedestrians who leave their cars after a flat tire or a mechanical breakdown on the highway and are struck by other motorists.
Although official statistics aren't yet out, the Governors Highway Safety Association is projecting that nearly 7,500 pedestrian deaths will be reported in 2021, a significant increase from the previous year.
Orlando has, unfortunately, been at or near the top in pedestrian deaths for a number of years, though the reasons aren't altogether clear.
Tips For Motorists and Pedestrians
We can reduce the number of people killed and injured on the roads if pedestrians and motorists would take a few simple, life-saving steps.
For pedestrians:
Avoid wearing headphones and earbuds in congested areas. At the very least, try to wear just one of them so you can remain aware of your surroundings.
Use multi-purpose biking and walking trails when possible.
If you're walking at night, wear light-colored clothing.
If you're biking at night, always wear a red light so cars approaching from behind can see you, and a white light pointing forward.
Distraction isn't just for drivers. If you're walking, don't look at your phone while negotiating intersections.
And speaking of intersections, use crosswalks whenever possible.
For motorists:
Between cell phones, onboard navigation and touch-screen entertainment centers, drivers have a lot of possible distractions. Always be aware that vulnerable pedestrians are all around you.
Crosswalk designations are not polite suggestions. In most states, drivers are required to yield to pedestrians.
When making a turn at an intersection, always anticipate that a walker or cyclist might be crossing into your path.
Most states give bicycles the same right to use the road as motorists and require drivers to give cyclists at least 3 feet of clearance.
When you're in reverse, don't just look for cars, look for people.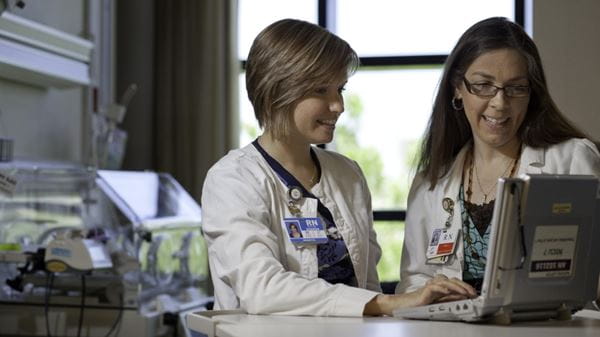 Are you interested in a career at Orlando Health?
Serving 1.8 million Central Florida residents, Orlando Health is one of Central Florida's largest employers. This is where you can find a career with a family of caregivers – each focused on helping our patients. No matter your role, you'll play a part in providing patient-focused care in a supportive, encouraging environment.

Learn More Here