View All Articles
Ways to Stay Safe and Avoid Injury on Halloween
On average, about 41 million people will go trick-or-treating across the country.
While Halloween is a festive time of year for many families, there are some safety risks of which parents and kids should be aware. Here's what you need to know and some ways to stay safe and enjoy this ghoulish and frightful holiday:
Be Careful When Walking
Trick-or-treating usually involves a lot of walking and going door-to-door, but did you know children have double the risk of being hit by a car on Halloween compared to any other time of year? The month of October also ranks second, just behind August, for the number of motor vehicle accidents.
To stay safe, have an adult or parent accompany the kids when they trick-or-treat. If your children are older, map out what trick-or-treating route they plan to take in the neighborhood and make sure they have a fully-charged cell phone so you have an easy way to contact them. They also should only walk in areas that are familiar and well lit. Following this game plan can help them stay safe.
Drive Safely
As I already mentioned, millions of kids go trick-or-treating on Halloween, so in addition to making sure your kids stay safe as they walk the neighborhood, you also need to be careful when you drive.
Most trick-or-treating will occur in residential areas, so drive slowly and take extra time to look at each intersection and stop signs as you drive through each neighborhood or enter rel="noopener noreferrer" and exit your driveway. Distracted driving has become an even bigger issue as more gadgets become available, so if you're behind the wheel pay attention to the road and put your smartphone in the glove compartment — or better yet, turn it completely off.
Pick a Safe Costume
A costume is a must-have on Halloween, but whether your kid intends to be a ghost, witch, goblin or headless horseman, you need to balance being creative with being safe.
If possible, have your kids avoid masks that can block their vision in favor of face paint and makeup (just make sure it's non-toxic). Also make sure they wear reflective tape or carry a glow stick or flashlight with them, so that they can see when it gets dark and so drivers can see them, too. Their costume shouldn't be too big or long, either, since this can be a tripping hazard that causes a fall or injury.
And be careful with decorative contact lenses, too. You should never wear these products without first getting an eye exam and a prescription from an eye specialist. Non-prescription decorative lenses can lead to inflammation, pain and a potential eye infection, so get your eyes checked beforehand or just don't wear them on Halloween. Your costume still will be fabulous without it.
Be Careful Carving Pumpkins
Pumpkin carving is a time-honored tradition during Halloween and the fall season, but using sharp knives and carving tools can come with several risks, especially for young children.
This should go without saying, but never let your toddler or young child carve a pumpkin with a sharp object on their own (or even with your guidance, for that matter). It's better for them to simply paint or draw a face on a pumpkin.
Also be aware of potential fire hazards. Use a glow stick or flashlight to light the inside of your pumpkin instead of a candle. It's much safer and will reduce the risk of a fire or burn injury.
Thoroughly Inspect Candy
We've all heard about the risks of consuming candy from strangers on Halloween. Though stories about Halloween candy tampering are few and far in between, it's still a possibility.
However, parents also should watch out for candies that may be potential choking hazards, especially for young children. Weed through your kids' Halloween candy stash to see what will be safe for them to eat. It's also not a bad idea to limit how much of it they consume, since too much sugar could lead to a stomach ache.
Halloween is so much fun for adults and kids alike, but while you celebrate the holiday keep these safety tips in mind. Oct. 31 is right around the corner, so I hope you have a safe, healthy and happy Halloween.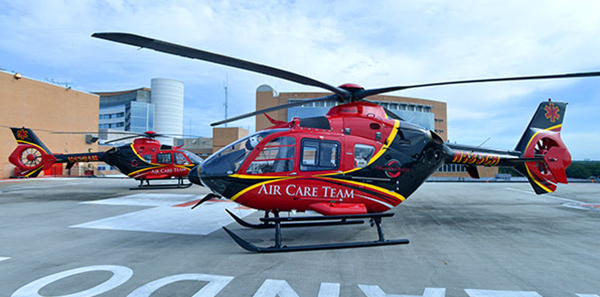 Are you interested in learning more about our Emergency and Trauma Care?
Emergencies can happen anytime, anywhere. Which is why all Orlando Health hospitals are equipped and staffed to handle any emergency situation — big or small. Our team of physicians are all board certified in emergency medicine, and are here for you, 24 hours a day, seven days a week. We are also proud to offer Central Florida's only Level One Trauma Center, located at Orlando Health Orlando Regional Medical Center.
Learn More Here