View All Articles
Why Blood Donations Are So Important
According to the American Red Cross, while approximately 38 percent of the U.S. population is eligible to donate blood, only about 10 percent of those who are eligible actually donate. The demand for donated blood in our nation's hospitals, however, is consistently high. In fact, it is estimated that roughly 40,000 pints of this life-saving blood are used every single day, and the demand never stops.
Also, the Red Cross is currently reporting that there are national shortages of donated blood due to the severe winter weather throughout the country, which has made it difficult for people to get to donation centers. And with January being National Blood Donor Month, it is an ideal time to educate the public about the need for blood donations.
Clearly, the current short supply is a primary reason to donate blood, but the need is always present. For many people, the reason they donate blood is simply that they feel it is the right thing to do. After all, about one of every seven people who go to a hospital end up needing donated blood as part of their treatment. And there is no such thing as synthetic blood. In other words, it can't be manufactured so donations are the only way to keep the supply fully stocked.
Donated blood is used for a wide range of circumstances that can potentially affect anyone, which is also a main reason people donate. Patients undergoing treatment for injuries suffered during an accident often rely on donated blood to save their lives. A mother experiencing labor difficulties is another situation when blood donations are critical, along with children getting chemotherapy for cancer, premature babies and seniors with anemia.
While all blood types are always needed, donations of more rare blood types are especially in demand. For example, people with O negative blood only make up about 8 percent of the population, but their blood can be given to patients of all blood types, making their donors highly needed.
The process of donating blood
When you arrive, it's a good idea to have eaten a light meal ahead of time and have plenty of fluids in you. Make sure you bring your driver's license and donor card, if you have one, as well as a list of the medications you take. After that, the process of donating is easy and usually takes less than an hour:
Registration. Someone will check you in and make sure they have your contact info. They'll also ask you a few medical questions to make sure you're healthy enough to donate.
Mini-physical. A healthcare professional will check your blood pressure, pulse, body temperature and hemoglobin.
Blood donation. Blood will be drawn using a safe, sterile needle, and the process takes about 10 minutes. On average, adults have about 10 pints of blood circulating through their bodies. A typical blood donation is only one pint.
Refreshment. You'll be given a snack and something to drink while you rest to make sure you're not lightheaded or queasy, which happens only rarely.
After about 10 to 15 minutes, you'll be able to leave and go about your normal daily routine.
While some people would like to give blood, they may be uncertain if they are eligible due to their health history or medical conditions. However, there are only a few circumstances that would prohibit you from giving blood, and they include:
Recent piercings or tattoos within the last four months.
Active cold or flu symptoms at the time of the donation.
Recent infection and/or treatments with antibiotics.
Body weight under 110 pounds.
Most important, giving blood is an easy way to save lives within your own community, something you can feel good about. So contact your local American Red Cross chapter to find a blood drive near you.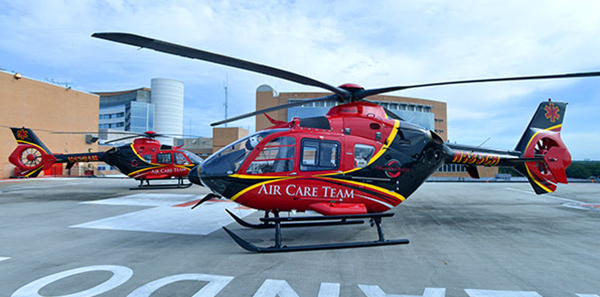 Are you interested in learning more about our Emergency and Trauma Care?
Emergencies can happen anytime, anywhere. Which is why all Orlando Health hospitals are equipped and staffed to handle any emergency situation — big or small. Our team of physicians are all board certified in emergency medicine, and are here for you, 24 hours a day, seven days a week. We are also proud to offer Central Florida's only Level One Trauma Center, located at Orlando Health Orlando Regional Medical Center.
Learn More Here