An Ordinary Day
As a 38-year-old mother of two, wife, and working professional, Nadia is the pillar of her family. She's a certified super mom who's always on the go. Whether she's exploring the world with her travel-loving family, volunteering with their church, or closing a deal, Nadia never has a dull moment. But behind her busy lifestyle were pressing health issues she never knew she had and did not anticipate given her age.
Nadia describes the day she suffered a heart attack as an ordinary day. She did notice an unusual pain in her chest, but figured it was from work-related stress. After working during the day, she cooked dinner for her family and put her children to bed. Her symptoms worsened through the night, so she told her husband she was going to the emergency room and asked her brother to meet her there. After checking into Orlando Health South Lake Hospital, Nadia told the receptionist her symptoms and turned to see her brother had arrived. She describes the rest of the night as a blur as she began to suffer the heart attack.
From Worried to Well
In the ER, Nadia was diagnosed with 100% blockage of her left anterior descending artery (LAD). She received careful, immediate treatment from interventional cardiologist Dr. Vijaykumar Kasi, who is part of the Orlando Health Heart Institute Cardiology Group. He inserted a stent in the clogged artery to regulate Nadia's blood flow. She regained consciousness in the hospital catheterization lab and was greeted by Dr. Kasi who asked how she was feeling and assured her he would "get the elephant off of her chest."
Nadia's procedure went as smoothly as Dr. Kasi and his team could've hoped and she was able to go home three days later. For her follow up care, she began seeing Dr. Lushantha Gunasekera another physician of the Orlando Health Heart Institute Cardiology Group who prescribed cardiac rehabilitation.
Often referred to as "cardiac rehab" the program includes monitored exercise, education and counseling about cardiac risk factors and psychological support. At the Orlando Health South Lake Hospital Cardiac Rehabilitation Center, her physician worked with a cardiac nurse and exercise physiologist to prescribe an individualized program with the goal of improving exercise tolerance, strength and flexibility.
Getting Better Together
Nadia attended cardiac rehab twice a week for 18 weeks and her experience consisted of setting goals, being more active, and creating an exercise regimen she could keep up on her own. The cardiac rehab team also taught her how to monitor her heart rate to ensure she was staying in a healthy range.
Throughout her rehab sessions, Nadia grew incredibly close to her cardiologist, Dr. Gunasekera and the team at the hospital cardiac rehab center. She recalled how they encouraged and supported her unconditionally during her recovery as something she'd never forget. In addition to her physical health, they considered her mental health as well, recognizing the fear and uneasiness that went along with her health scare. The Orlando Health team assured her there was life after her heart attack which was key to her feeling confident and comfortable again to live without worry.
Health is Wealth
Even Nadia's family now lives a healthier lifestyle. When they go grocery shopping, they read labels and pay more attention to which foods they take home. Her children are also advocates for heart health and share the healthy tips they've learned with their peers. She works out regularly using the regimen she created during her time in cardiac rehab. In the morning before work, Nadia and her husband walk around a lake near their neighborhood or use their home gym. Thanks to being more active, her endurance is much better and she even finds herself having more energy and a clearer mind.
Nadia is grateful for the physicians of Orlando Health Heart Institute Cardiology Group who treated her the night of her heart attack and afterwards, the team in the hospital catherization lab who kept her calm and reassured when she was scared, and the cardiac rehabilitation team who helped her get back to living a healthy life. Their expert care and commitment to heart health helped her turn what could've been a devastating result into a whole new lifestyle for her entire household. Nadia now lives by her new motto "health is wealth" without cease. When she looks back to the unforgettable moment of experiencing a heart attack, she remembers there being nothing she could do to stop it. But with her newfound appreciation for life and commitment to health and heart disease prevention, she's ready for her next adventure.
Read More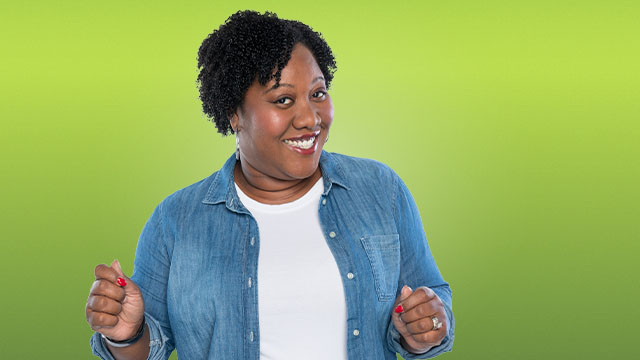 Care from the Heart
The cardiac rehab team...wow. If there was a day when I just felt like I couldn't do it, they would listen, motivate, and encourage me. I still go back and see them because they are now going to forever be a part of my life. During one of my most difficult times, they were there unconditionally. No matter what they may have been going through in their personal lives, they turned that off every day, and not only for me. They offered the same compassion to each and every individual.