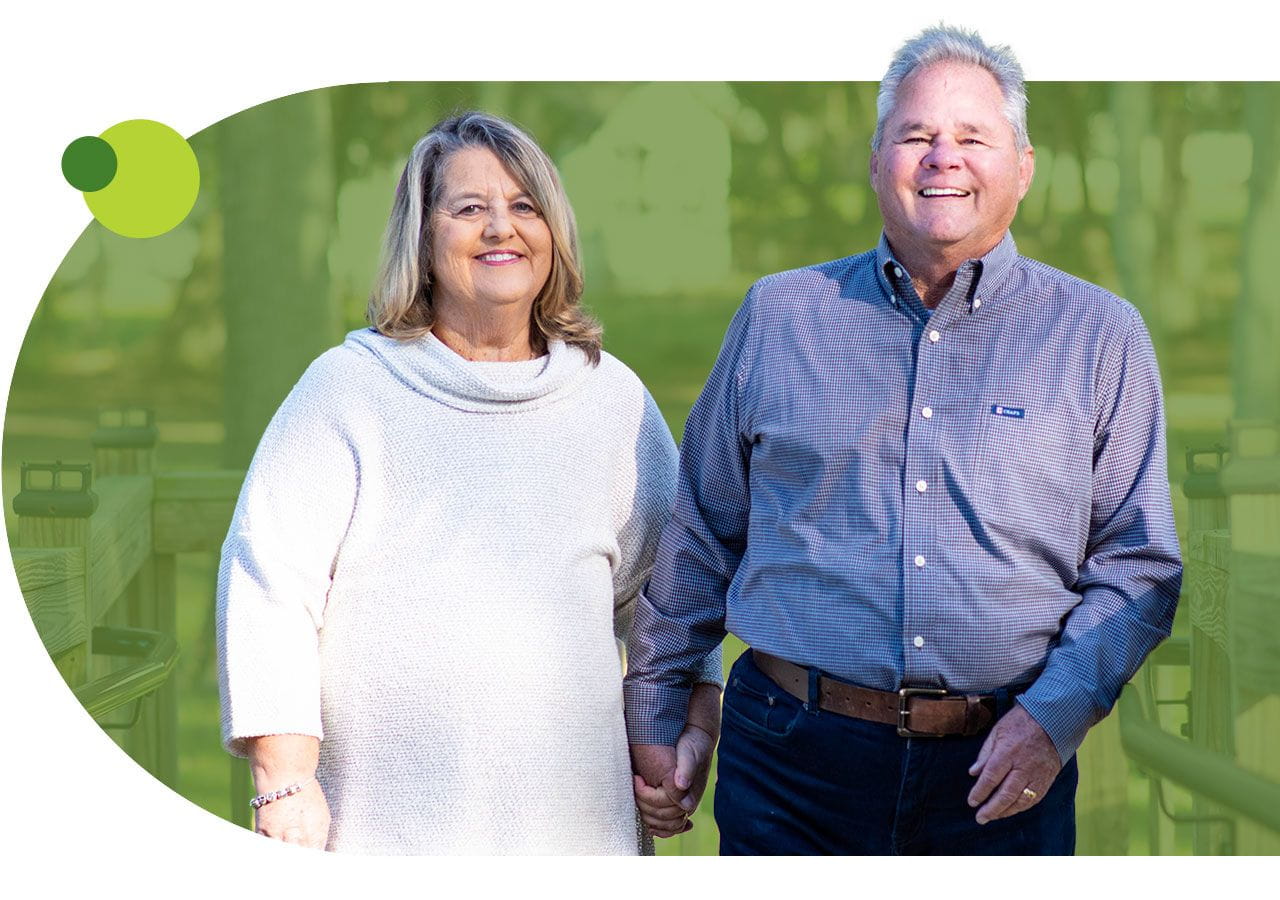 TOMMY
Staying Strong Together
Tommy, a loving husband, father and grandfather, lives in Apopka with his wife, Denise. Nearing fifty years of marriage, Tommy and Denise have supported each other throughout much of their lives. In 2004, they met a challenge they never anticipated when Tommy was shot in the stomach while working as a delivery driver. Taken to Orlando Health Orlando Regional Medical Center for surgery, Tommy's family rushed to be by his side.
In surgery, doctors realized that Tommy was so severely injured that he no longer had enough skin and muscle for surgeons to fully repair the damage to his stomach. To correct the issue, surgeons at OHORMC used cadaver skin to safely and properly enclose the injured area. However, Tommy's survival was not yet insured. Three days after being shot, he suffered a massive pulmonary embolism. Placed in a medically induced coma, his doctors monitored his progress. Thankfully, the issue passed and the team at OHORMC determined he didn't need emergency heart surgery.
Finding Hope
Days after the pulmonary embolism, Tommy showed signs of recovery. However, his gunshot injuries were so damaging that weakness in the area resulted in a repeated hernia. Due to the severity of his initial injuries from the shooting, Tommy would ultimately need 21 hernia repair surgeries over the next 14 years – each performed by Dr. Michael L. Cheatham.
Tommy recalls many nurses, physicians and staff providing extraordinary care and attention to him and his family. He especially appreciated a nurse taking the time to ensure he had a bath before his surgery as a display of her true commitment to his care. They grew so close, Tommy loved her like a family member.
Because his wife, Denise, was constantly by his side while he was in the hospital, she experienced special moments with the team as well. She appreciated nurses' diligence in keeping her updated on Tommy's progress and even bringing her tea as she stayed with him.
Forever Thankful
Today, Tommy is continuing care with the team he's trusted for well over a decade. His family is equally grateful to have Orlando Health supporting Tommy's health journey. Each year on Father's Day and the anniversary of the shooting, Tommy's daughter offers gratitude to the Orlando Health team for saving her father's life. Overwhelmed with thanks himself, Tommy wholeheartedly agrees, saying "I owe my life to Orlando Health." Though the incident brought their family an unexpected hurdle, it has taught them to hold each other tighter and to find joy in each day.
BOB
A Vacation Turned Stay
A devoted husband, father and grandfather living in Louisiana, Bob considered himself "healthy as a bull" until he started feeling ill in August 2019. After a visit to an emergency room revealed 90% blockage of his arteries, surgeons performed triple bypass surgery to regulate Bob's blood flow.
Upon healing from this procedure, Bob's physician cleared him to travel to Florida for a trip to Disney with his family. Yet instead of enjoying a much-needed vacation – he found himself in a local hospital where he was diagnosed with an internal fistula abscess. Citing Orlando Health Orlando Regional Medical Center as one of the top hospitals in the area to treat this kind of issue, the physician at the local hospital recommended Bob be transferred immediately.
Healthcare Home
Arriving at OHORMC, Bob prepared for his fistula repair surgery. During the process he was forewarned that he could develop a hernia due to the location of his abscess, but was reassured that once recovered from the fistula procedure, he could return for treatment should it develop. While the surgery was a success, Bob did indeed develop a hernia post-surgery – one the size of a football. Advised by Dr. Michael L. Cheatham, a board-certified surgeon at Orlando Health specializing in complex hernia repair, Bob chose to go home to Louisiana to recover fully and then return to Orlando and OHORMC for hernia surgery.