The power of the hospital in the comfort of your home.
Providing Exceptional Care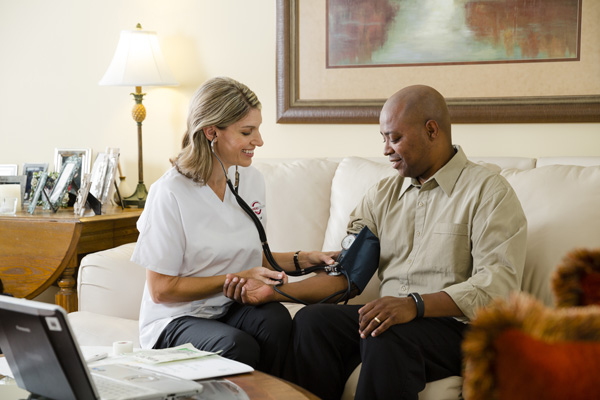 Orlando Health Home Care, is a well-recognized and respected community leader in home health, keeping our patients healthy, safe and living independently in their own homes. As part of the Orlando Health continuum of care, the goal of our integrated system of care is providing safe, quality, value-based care that leads to a positive patient experience with the best possible clinical outcomes.
The Home Care Difference
Often described as a hospital without walls, Orlando Health Home Care provides comprehensive skilled nursing and rehabilitation services focused on achieving our patients' home health goals. Our model of care is one of collaboration among healthcare providers to support patient needs while promoting maximum independence at home. Our experienced, skilled and compassionate home health professionals are specially trained to provide the total care you or your loved one needs to heal and recover in the comforting, familiar surroundings of home. Our personalized care is also directed toward building patient engagement and self-management for optimal health.
Our Home Care services include:
Care Management
Orlando Health House Calls
Medical Social Services
Personal Care
Private Duty Services
Rehabilitation Services
Respite Care
Senior Care
Skilled Nursing Services

Our skilled services are centered on evidence-based guidelines and practices to promote clinical excellence. As part of caring for the "whole" patient, we are aware and sensitive to the impact that our patients' cultural and spiritual needs have on healing and wellbeing. Being in a familiar home environment gives you unique opportunities for healing and recovery, as well as allowing you and your caregivers to become more active partners in the care process.
Orlando Health Home Care's extensive health services enable our patients to live knowledgeably and independently with a chronic condition or when recovering from illness or injury. We evaluate each situation, working individually with you, your physician and loved ones to create a personalized care plan to best suit your unique needs. To inquire about services for yourself, a family member or a friend, please call us. We can contact your physician and/or your insurance provider to discuss care solutions.
Contact us:
102 W. Pineloch Ave., Suite 23 Orlando, FL 32806 main: (407) 854-3100 / fax: (407) 852-2793 referrals: (407) 852-2782 / fax: (407) 852-2698 private duty: (407) 644-2433 / fax: (407) 644-0331
Orlando Health Home Care is an Agency for Health Care Administration–licensed, Joint Commission–accredited and Medicare certified home health agency. We undergo regular audits to ensure clinical and technical competence with high sensitivity and adherence to system, state and federal requirements/mandates. All care providers are screened at the highest levels of state and the federal governmental standards, and every home care professional entering the home is licensed, bonded and insured. We appreciate and value your trust in allowing us to care for you.