Nagging Cough Starts Ordeal for Woman Nearing Retirement
By Orlando Health
In Summer 2013, Rowena was approaching retirement and ready for days full of novels, baking her favorite recipes and volunteering in her community. Before enjoying her golden years, she decided to get a checkup. Though she had a small cough, she figured it was due to allergies. When the cough continued, Rowena's primary care physician referred her to an ENT (ear, nose and throat) doctor who thought she simply needed a stronger antibiotic. She also noticed her neck was swollen but had no pain.
After undergoing a CT scan recommended by her primary care physician, Rowena was asked to return for x-rays. At this time, she was skeptical that there was anything wrong. Convinced by her brother who's a doctor, Rowena hesitantly went back for additional testing. The physicians decided Rowena should see an oncologist. This is when she started to worry.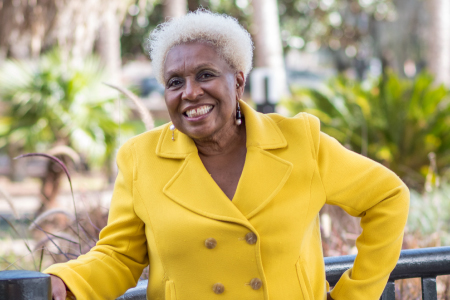 A PET scan and biopsy revealed a growth in Rowena's chest; still, she wasn't given a definite diagnosis. After what she describes as a horrible experience, her sister told her, "Listen, you don't have to go there [for treatment]. You can go anywhere you want." So, Rowena called around and discovered Orlando Health Cancer Institute.
If I hadn't followed through and seen my doctor, six months later may have been too late.

– Rowena, Lung Cancer Patient
When searching for care during one of the hardest times of her life, Orlando Health provided convenience that Rowena hadn't found anywhere else. While other hospitals required her to send her medical information, Orlando Health assured her they would have everything she needed. "They told me, 'we'll take care of everything,' and they made me an appointment,'' she said. "How can you beat that?" She could even bring her sister for support.
Rowena was first seen by Dr. Luis Herrera, a thoracic surgeon with Orlando Health Cancer Institute. She would also receive care from Dr. Tirrell Johnson, a board-certified medical oncologist at Orlando Health Cancer Institute. Because she had an aggressive form of lung cancer, her team informed her she would need surgery.
Rowena's surgery was scheduled with Dr. Herrera. After longing for answers, Rowena appreciated how thorough Dr. Herrera was when describing her diagnosis and what to expect from her surgery. During surgery, he removed a small portion of Rowena's lung. While at the hospital, Rowena remembers seeing a sign that said lung cancer is prevalent in women, and that it's typically found at a late stage. She thought to herself, if she hadn't followed through and seen her doctor, six months later may have been too late. Rowena was released after just two days in the hospital. Without needing chemo or radiation, she's now cancer-free.
It's been over seven years since Rowena's surgery. First having checkups every six months, she now has just an annual appointment with Dr. Herrera and Dr. Johnson. During the appointment, Rowena and her care team compare images of her lungs from previous years to ensure she's in good health. Having grown close to those they've met, Rowena and her sister see the yearly visit as a fun day of visiting the Orlando Health team.
Though she's never smoked, Rowena once worked in offices that permitted smoking indoors. She remembers being surrounded by cigarettes for most of the day, as her coworkers and people in the lobby smoked often. For this reason, Rowena believes she developed lung cancer from secondhand smoke. Because of her experience, Rowena now takes charge of her health by avoiding cigarette smoke altogether. Today, over seven years cancer-free, Rowena is determined to enjoy life as she should: relaxing and breathing easy.