SpaceOAR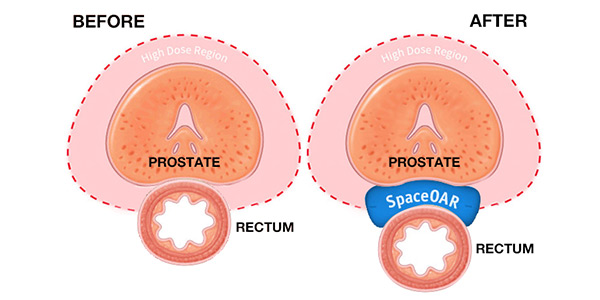 The Orlando Health Cancer Institute offers the latest radiation treatments and technology for prostate cancer, with the goal of killing cancer cells and preserving surrounding healthy tissue. Our compassionate and knowledgeable team works with you to lower your risks during radiation treatments. The SpaceOAR system protects the rectum from radiation side effects due to prostate cancer treatment. .
What Is SpaceOAR and How Does It Work?
SpaceOAR is a gel spacer that temporarily moves the rectal wall further away from the prostate to protect against unintentional damage to the rectal wall during radiation treatment. It is a soft, non-toxic gel that is made mostly from water. The material that the hydrogel is made from has been successfully used for other implants, such as surgical sealants used in the eye, brain and spine. The hydrogel is also biocompatible, meaning it can be used in the body without causing injury or reaction.
We inject the gel using a small needle between the prostate and the rectum to temporarily create a barrier and protect the rectum from radiation during treatment.
What Should I Expect During the SpaceOAR Procedure?
The procedure is minimally invasive and can be done in a short outpatient appointment, so you do not have to stay overnight in the hospital. You receive either local anesthesia (numbing injection) or general anesthesia (medicine to put you to sleep) to avoid feeling any discomfort during the procedure.
During the procedure, we use ultrasound imaging to see where to place the hydrogel. Next, we inject the gel as a liquid between your rectum and prostate using a small needle. The liquid solidifies into a gel within seconds. This creates a space of 0.5 inch (1.3 cm) between the rectum and prostate. Although this may seem like a small space, it is very effective in protecting the rectum from radiation.
When Can I Return to Normal Activities?
You may be able to return to normal activities immediately after the procedure. Our team works with you on an individual basis to determine the safest plan for returning to your normal activities.
How Long Does SpaceOAR Last?
The gel usually lasts about three months. After about six months, the gel is naturally absorbed and passes through your urine. You do not need another procedure to remove it.
What Are the Advantages of Using SpaceOAR?
Our team wants to protect your healthy cells, like those in your rectum, during radiation therapy for prostate cancer.
The benefits include:
Injecting the gel is a minimally invasive procedure with low risks
Lower potential side effects from radiation, including:

Bowel problems
Erectile dysfunction
Rectal pain and bleeding
Urinary urgency and leakage
Chronic diarrhea

Gel protects the rectum during all types of radiation treatments, including:

External radiation (external beam radiation therapy – EBRT)
Internal radiation (brachytherapy)
Stereotactic body radiation therapy (SBRT)
Proton beam therapy

Lower risk of damaging healthy cells in the rectum through radiation
Gel is easily absorbed by the body and does not have to be removed after radiation treatment.