Amit Bansal, MD
Assistant Vice President, Orlando Health; Chief Quality Officer, Orlando Health Dr. P. Phillips Hospital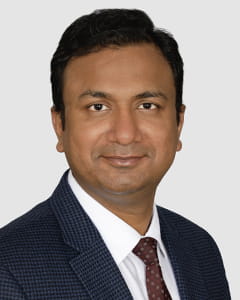 As an assistant vice president of Orlando Health and chief quality officer (CQO) of Orlando Health Dr. P. Phillips Hospital, Amit Bansal, MD, oversees the quality and safety of all programs and services offered at Orlando Health Dr. P. Phillips. In his role as CQO, Amit collaborates with leadership and medical staff to support activities, processes and policies resulting in high-quality patient care that aligns with system-wide clinical practices and standards.
Prior to joining Orlando Health, Amit was in leadership at Geisinger Health System in Danville, Pennsylvania, where he most recently served as a division chief of hospital medicine and physician advisor. He also was extensively involved in driving improvements in readmissions, length of stay and patient experience.
Board certified in internal medicine, Amit earned his medical degree from University College of Medical Sciences, University of Delhi, India, and completed an internal medicine residency at Guthrie Health – Robert Packer Hospital in Sayre, Pennsylvania. He earned an MBA from the University of Massachusetts Amherst.