John A. Moore
Senior Vice President, Orlando Health West Region; President, Bayfront Health St. Petersburg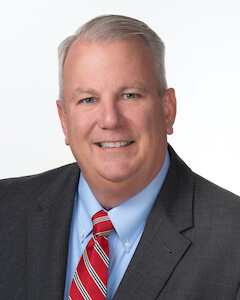 John A. Moore is president of Bayfront Health St. Petersburg and a senior vice president of Orlando Health. In his role as president of the 480-bed tertiary care and Level II Trauma Center in Pinellas County, John is responsible for developing, leading and implementing the hospital's strategic and operational direction.
Previously, John served as president of Orlando Health South Lake Hospital from 2011 to 2020. Working collaboratively with team members, medical staff and leadership, John led Orlando Health South Lake to significant gains in patient experience, team member engagement, economics and quality of care, including several consecutive A-grades in patient safety. During his tenure, the hospital completed expansion activities that equated to more than 10,000 new patients being served annually. In addition, John was part of the leadership team that developed the Orlando Health National Training Center, which provides Central Florida athletes the opportunity to train alongside medal-winning Olympic athletes.
John earned a bachelor's degree in business administration and a master's degree in healthcare administration from the University of Kentucky in Lexington.
As an active leader, John has served on several community boards, most recently on the board of directors for Lake Emergency Medical Services (EMS) and Cornerstone Hospice Palliative Care. He is a fellow of the American College of Healthcare Executives.