John Walsh
Vice President of Facilities Development, Asset Strategy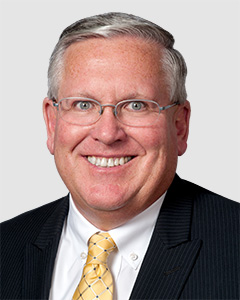 In his role as vice president of facilities development on the Asset Strategy team, John Walsh is responsible for the oversight of design and construction activities at all Orlando Health facilities. He also leads strategically focused solutions that maximize operational excellence, financial strength, sustainability and collaboration.
With more than four decades of construction and development experience, John came to Orlando Health in 2018 as senior director of facilities development. Before joining Orlando Health, John was with the Canaveral Port Authority where he led the construction team for seven years and served as chief executive officer for three years, piloting the expansion of cruise and cargo terminals. Prior to that, John worked in commercial real estate development and spent 15 years as owner of a general construction and design-build firm with more than 250 employees. The majority of his work focused on hospitals, healthcare facilities and higher education projects.
John earned a bachelor's degree in construction management and civil engineering from Drexel University in Philadelphia and an MBA from West Chester University, Pennsylvania.