Zach J. Kallenbach
Senior Vice President and Executive Director, Orlando Health Children's Foundation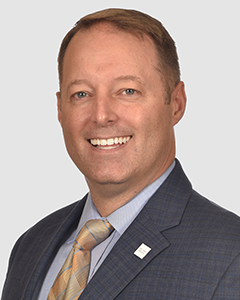 Zach currently serves as a senior vice president of the Orlando Health Foundation, as well as administrator for The Howard Phillips Center for Children & Families, part of Orlando Health Arnold Palmer Hospital for Children. His Orlando Health Foundation responsibilities include corporate partnerships, Children's Miracle Network Hospitals (CMNH), and the development of major gift opportunities to benefit several Orlando Health hospitals.
Zach began his career at Orlando Health in 1999. He has previously served as director of Community Relations as well as administrator, Ancillary and Support Services for Orlando Health Arnold Palmer Hospital and Orlando Health Winnie Palmer Hospital for Women & Babies.
Zach is a graduate of the University of Central Florida (UCF) where he attained a bachelor's degree in Finance. Additionally, he earned an MBA from Liberty University and holds a Certificate of Fundraising Management (CFRM) from the University of Indiana and Purdue University at Indianapolis (IUPUI).