Jonathan Rodriguez-Ortiz, MD
Clinical Faculty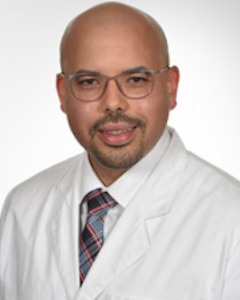 Jonathan Rodriguez-Ortiz, MD, is board-certified in cardiovascular disease with Orlando Health Heart Institute. He also has Level III training in multimodality cardiovascular imaging (MRI) and computed tomography (CT). He works with referring physicians to identify the most beneficial diagnostic imaging for his patients.
Dr. Rodriguez-Ortiz earned his medical degree from the University of Puerto Rico School of Medicine in San Juan and a Bachelor of Science degree in biology from the University of Puerto Rico in Mayaguez. He completed his residency in internal medicine and fellowship in adult cardiovascular disease at the University of Puerto Rico School of Medicine. He then completed a fellowship in advanced cardiovascular multimodality imaging at the University of California San Francisco.
He also is a diplomate of the American Board of Internal Medicine and the United States Licensing Exam and is a registered physician in vascular interpretation.
Dr. Rodriguez-Ortiz is a member of the American College of Cardiology, American Society of Echocardiography, American Society of Nuclear Medicine, Society of Cardiovascular Magnetic Resonance, Society of Cardiovascular Computed Tomography, and Alpha Omega Alpha Medical Honor Society. He has published in peer-reviewed journals and is fluent in both English and Spanish.