Anita Ekambaram, MD
Assistant Vice President, Orlando Health; Chief Quality Officer, Orlando Health South Seminole Hospital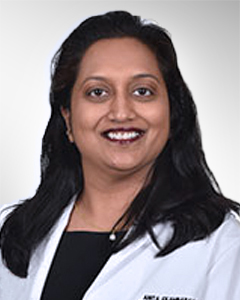 Anita Ekambaram, MD, is board certified in internal medicine and serves as the director of the Orlando Health Inpatient Medicine Group and chief quality officer at Orlando Health South Seminole Hospital.
Dr. Ekambaram graduated from Mysore Medical College in India, where she was an instructor at the Department of Public Health and Community Medicine. She completed her internal medicine residency at University of Illinois at Chicago/Advocate Christ Medical Center. She has been a physician for more than 20 years.
Dr. Ekambaram has been involved in several research studies, including presenting at the American Society for Gastrointestinal Endoscopy annual meeting in San Diego.
Dr. Ekambaram has served as a volunteer at Shepherd's Hope, providing medical care to indigent patients, and she is co-founder of the Muthamizh Sangam of Central Florida Scholarship that provides economic aid to children from disadvantaged socio-economic backgrounds to pursue an education in medicine and engineering.
During her free time, Dr. Ekambaram loves to travel with family and enjoys listening to classical music.