Matt Taylor
Senior Vice President, Asset Strategy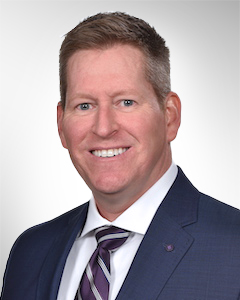 As the senior vice president for asset strategy at Orlando Health, Matt is responsible for the identification and implementation of real estate and facility strategies to support relationships and business arrangements in existing and new markets. He oversees the systemwide real estate, campus and facilities planning, design and brand architecture, and leads the facilities and interiors construction and development, engineering and safety teams, programs and initiatives.
Matt came to Orlando Health with more than two decades of experience in corporate leadership, stakeholder relations and large-scale developments including hospitals and healthcare campuses, commercial airports, seaports, hotels and convention centers, federal installations, urban mixed-use projects and theme parks.
He earned his bachelor's degree in economics from Centre College in Danville, Kentucky. He holds a master's of business administration with a concentration in international business from American University in Washington, D.C., and a master's of city planning from Georgia Tech in Atlanta.
He is certified by the American Institute of Certified Planners and is a member of the Urban Land Institute. Matt has received several national awards for his work with NASA and the United States Air Force.