Sarah D. Gilbert
Assistant Vice President, Orlando Health; Chief Operating Officer, Bayfront Health St. Petersburg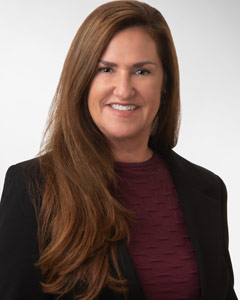 In her role as chief operating officer of Bayfront Health St. Petersburg, Sarah Gilbert is responsible for the day-to-day operations, as well as the development and implementation of strategic business initiatives, at the downtown St. Petersburg healthcare campus.
Sarah joins Orlando Health with more than 30 years of healthcare experience, including executive-level operational and business strategy leadership roles with St. Mary Mercy Hospital, a member of Trinity Health, in Livonia, Michigan.
She holds a master's degree in health services administration from the University of Michigan, a master's degree in physical therapy administration from the University of Indianapolis and a bachelor's degree in physical therapy from the University of Evansville (Indiana).
Sarah has been active in numerous professional and industry organizations throughout her career, most recently serving as board member and industry liaison for the Michigan Chapter of Women in HealthCare, board member of the Livonia Chamber of Commerce, and member of the American College of Healthcare Executives. She was a recipient of the Crain's 2020 Notable Women in Health award from Crain's Detroit Business.