Shyam S. Varadarajulu, MD
President, Orlando Health Digestive Health Institute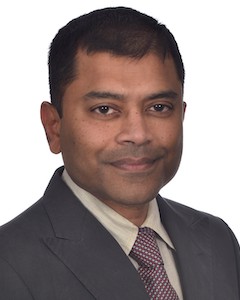 As president of the Orlando Health Digestive Health Institute, Dr. Shyam Varadarajulu is responsible for the strategic development and operational performance of the Orlando Health Digestive Health Institute, an international destination for care.
A renowned expert in gastroenterology who has lectured and held visiting professorships around the world, Shyam has authored more than 60 textbook chapters and more than 300 peer-reviewed manuscripts in high-impact journals. He also is a reviewer for more than 30 professional journals. In addition, as a practicing board-certified gastroenterologist, Shyam has served as principal investigator for more than 20 randomized trials related to interventional endoscopy.
Shyam received his medical training at Madras Medical College in India, followed by a residency in internal medicine at St. Mary's Hospital in Rochester, New York. He then completed a gastroenterology fellowship at the University of Connecticut in Farmington, and a fellowship in advanced endoscopy at the Medical University of South Carolina in Charleston.
He is a member of the American Gastroenterological Association, American College of Gastroenterology and American Society for Gastrointestinal Endoscopy; an honorary member of the European Endoscopic Ultrasound Club and the Society of Gastrointestinal Endoscopy of India; and an honorary fellow of the Japanese Gastroenterological Endoscopy Society.