Thibaut van Marcke
Senior Vice President, Orlando Health Southeast Region; President, Orlando Health Dr. P. Phillips Hospital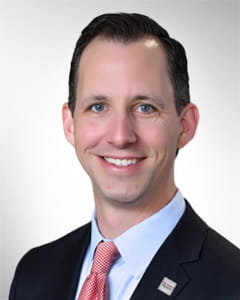 Thibaut van Marcke is the senior vice president of Orlando Health, and president of Dr. P. Phillips Hospital. Prior to his current role, Thibaut was vice president and chief operating officer for HCA - North Florida Regional Medical Center in Gainesville, a 432-bed tertiary hospital, where he was responsible for all hospital operations including executive oversight of surgical services, cardiovascular services and all ancillary and support departments.
His prior experience includes roles as chief operating officer of Medical Center of Trinity in New Port Richey, Florida, and associate administrator at HCA/HealthONE in Aurora, Colorado.
Thibaut currently serves on the Board of the Central Florida Hotel and Lodging Association.
He holds a bachelor's degree from the University of Richmond and a master's of health administration from Virginia Commonwealth University.