Tonja B. Mosley
Chief Financial Officer, Orlando Health – Health Central Hospital and Orlando Health Horizon West Hospital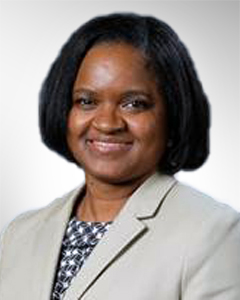 In her role as chief financial officer, Tonja Mosley oversees the financial operations for Orlando Health – Health Central Hospital and the new Orlando Health Horizon West Hospital.
Tonja has more than 20 years as a chief financial officer (CFO) in healthcare. Prior to joining Orlando Health, she was CFO of Wellington Regional Medical Center, a Universal Health Systems facility located in South Florida. Tonja spent 15 years with Community Health Systems (formerly HMA) where she held various CFO roles, was named 2010 CFO of the Year, and was appointed 2013 CFO Council chairwoman. She also was recognized by Black Enterprise magazine, a South Florida publication, as a 2015 Healthcare Professional of the Year.
Tonja earned bachelor's degrees in both accounting and finance from Florida State University in Tallahassee. She is a member and past board member of the Healthcare Financial Management Association. She also served on the boards of the Polk County Indigent Healthcare Plan, the Polk State College Foundation, Tyler-Brooke Fashion Boutique (co-owned with her spouse), and various religious and civic organizations.