Paul Johns
Assistant Vice President, Orlando Health; Chief Operating Officer, Orlando Health South Lake Hospital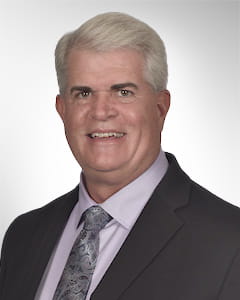 In the role of chief operating officer (COO) for Orlando Health South Lake Hospital, Paul is responsible for operational strategies and oversight of all ancillary services at the 180-acre campus, which includes 170 patient beds, an ambulatory surgery center, a short-term rehabilitation facility, the National Training Center and other healthcare services. As COO, he has led projects including an emergency department expansion and the development of two new campuses in the hospital's service area.
Previously, Paul was the administrator of ancillary and support services at Orlando Health Dr. P. Phillips Hospital. He joined Orlando Health in 2003 as director of rehabilitation at the Brain Injury Recovery Center at Orlando Health Dr. P. Phillips.
Prior to his work with Orlando Health, Paul spent eight years with Leesburg Regional Medical Center, where he held several positions including vice president.
Paul earned his MBA from Webster University in Orlando and his bachelor's degree from SUNY College at Brockport in New York.