Philip Koovakada
Senior Vice President, Orlando Health South Central Region; President, Orlando Health – Health Central Hospital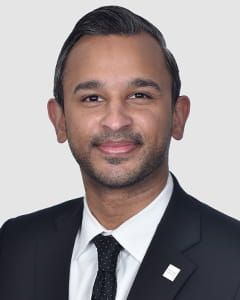 Philip Koovakada is senior vice president for the Orlando Health South Central region and president of Orlando Health – Health Central Hospital. In this role, he manages operations for the South Central region with the Orlando Health senior executive team, and leads strategic and operational direction for the hospitals and health campuses in the region.
Philip has extensive healthcare leadership experience, including patient care, quality enhancement, operational and financial management, and building leadership teams. He formerly served as president and CEO for St. Luke's Baptist Hospital in San Antonio, Texas.
Under his leadership St. Luke's served the community as a comprehensive stroke center, a STEMI/Level IV trauma-receiving organization and a Level IV maternal/Level IV NICU-designated facility. He has also served in leadership roles for NMC Health Network in Nacogdoches, Texas and for Tenet Health in Nacogdoches and Palm Springs, California.
He earned a bachelor's in nursing from the University of St. Francis, a master's in nursing and a master's in healthcare administration from California State University, Long Beach. He is also a member of the American College of Healthcare Executives (ACHE).