Welcome from the Program Director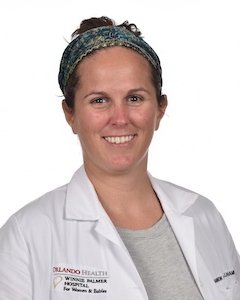 Welcome to the Obstetrics and Gynecology Residency program at Orlando Health Winnie Palmer Hospital for Women & Babies. We have one of the best OB/GYN training programs in the nation. The mission of our program is to train residents to become exceptional clinicians and leaders in women's healthcare. Our program blends a dedicated team of faculty/residents with a large, diverse patient population to provide a wealth of learning opportunities. Furthermore, this occurs in a beautiful, state of the art women's hospital. The result is a high volume, high acuity OB/GYN residency program, that provides an unparalleled educational experience for residents.
Furthermore, our institution has developed innovative programs to challenge and enrich residents:
Morbidly Adherent Placenta/ Placenta Accreta Spectrum team to treat pregnant patients with placenta accreta spectrum disorders.
Global Health Track to provide exposure about OB/GYN training outside the US
Women's Intensive Care Unit
Intrapartum fetal surgery program to treat/repair open spina bifida defects during the antepartum period
Upon completion of your training at Orlando Health Winnie Palmer Hospital, you will be more than ready to pursue a career as a generalist OB/GYN, or further subspecialty training in a fellowship. The Department of Obstetrics and Gynecology offers a four-year program, which is accredited for seven positions at each level by the Residency Review Committee of the Accreditation Council for Graduate Medical Education (ACGME).
Sincerely,
Shannon Scott-Schellhammer, MD
OB/GYN Residency Program Director
Obstetrics and Gynecology
Orlando Health Winnie Palmer Hospital for Women and Babies