Program Info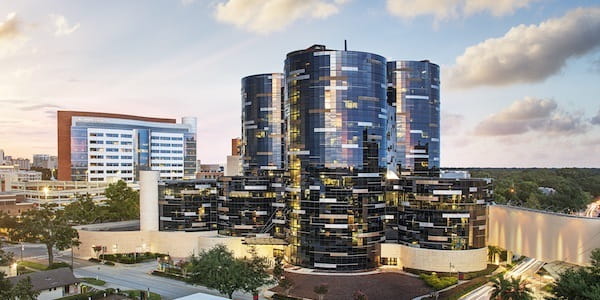 4-year program (established 1951)
7 residents per class
High volume/high acuity program
Extensive surgical experience for both OB and GYN cases
Work with academic and private practice physicians
Function primary surgeon starting early in residency
"Hybrid" training model
Large supportive faculty of generalists and sub-specialists
Faculty: resident ratio ~2:1
Family atmosphere
General Information
The OB/GYN residency program is based at Orlando Health Winnie Palmer Hospital for Women and Babies. We serve a large, diverse patient population in the central Florida area. In addition to the residency program, there is a large number of private practice physicians who bring their patients to our facility for both obstetrical care and gynecologic surgery. We have a strong working relationship with many of the private physician groups. As such, residents participate extensively in the medical and surgical care of their patients. The result is mutually beneficial - these patients receive excellent clinical care from residents and the generalist/subspecialist faculty, and the residents gain access to a huge patient population/surgical cases to enhance their training.
As the tertiary referral center for Central Florida, we receive transfers of complex cases from the surrounding areas. This allows exposure to a tremendous amount of pathology. The program is structured to provide extensive clinical experience by blending challenging cases and high volumes, while providing extensive support from faculty. At any given time, there are 3-8 attending physicians in-house at any given moment to teach and support the residents. We have a large core faculty consisting of:
20 generalist OB/GYNs
9 MFM specialists
3 GYN oncologists
3 Urogynecologists
2 minimally invasive surgeons
1 Pediatric and Adolescent Gynecology specialist
1 REI
Training Locations
About Orlando Health
As a member of the OB/GYN Residency Program at Orlando Health Winnie Palmer Hospital, you will be part of a bigger Graduate Medical Education team that is dedicated to meeting the challenges of a rapidly growing Central Florida community. We offer a wide variety of residency programs and maintain teaching affiliations in many specialty areas. The fully accredited residency programs include general surgery, pediatrics, emergency medicine, internal medicine, orthopedics, neurology, and pathology. Our programs have been created to enhance relations and communications within the medical center for your benefit. As an OB/GYN resident, you will discover that these programs help promote the Orlando Health philosophy, which is that people are the most important part of our organization.
Orlando Health is a not-for-profit healthcare organization spanning nine Florida counties with over 4200 medical staff members, 11 hospitals and 15 emergency departments, rehabilitation services, cancer centers, heart institutes, imaging and laboratory services, wound care centers, more than 475 physician offices for adults and pediatrics, and 16 urgent care centers in partnership with CareSpot Urgent Care. Last year Orlando Health served more than 150,000 inpatient's over, over 3 million outpatients, and more 20,000 international patients.
The majority of training for the OB/GYN residents takes place on the Orlando Health main campus (downtown). The adult (OHORMC), pediatric (OHAPH) and women's (OHWPH) facilities are located in close proximity of each other.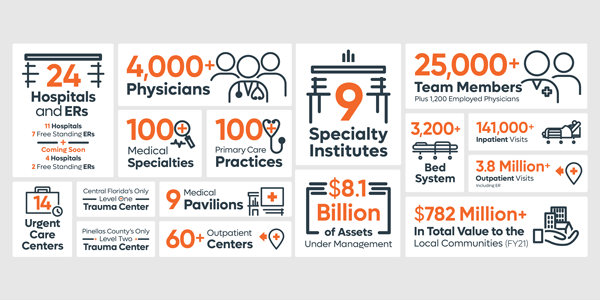 Orlando Health Winnie Palmer Hospital for Women & Babies
Orlando Health Winnie Palmer Hospital was built in 2006. This state-of-the-art facility for women's health is a 350-bed hospital providing care for both obstetrics and gynecology patients. There are several units that comprise WPH, each with its own distinct characteristics.
Women's Triage
Women's triage is a 34-bed unit that allows our team (residents, nurse practitioners, and attending physicians) to evaluate and treat every patient that walks through our doors. It is a fully functional OB/GYN emergency room with over 34,000 visits in 2019.
This unit is one of the features that makes us unique compared to other OB/GYN training programs. Typically, triage units provide care for patients that are of gestational ages of 20 weeks or higher. Patients who are less than 20 weeks, or gyn patients, are seen in the main ER. Here at WPH, we have a Women's OB/GYN ER as our triage unit. We see everyone. From those who just had a positive pregnancy test, to those who are post-term and everyone in between. We also see GYN patients. It is the BUSIEST OB/GYN triage in the nation.
The triage unit also serves as a healthcare access point for any patient in the community, including those who lack access or resources. Any patient who arrives in this unit is seen and evaluated, regardless of prior care, insurance status or any other factors. Residents and attendings provide care for all comers. The result is a very busy, and tremendously educational triage rotation. The residents see and learn not only clinical care, but also ultrasound skills, how to multitask effectively, and the importance of being decisive in key moments. They will go from evaluating a stable first trimester patient with vaginal bleeding in one room to calling an emergent stat section upon walking into the next room. It is one of the facets of our program that makes us unique.
Labor and Delivery
Labor and delivery is a 24-bed unit for obstetrics care. The unit is divided into 2 pods. There are also 4 OB operating rooms located between the L&D pods. These ORs are for obstetrics cases only (Cesarean sections and antepartum fetal surgery in utero). We are consistently amongst the busiest OB hospitals in the nation.
2019:
14,000+ deliveries

~4000 resident patients
Remaining are private physician's patients
~3700 via Cesarean section

273 multifetal gestation deliveries
Women's Intensive Care Unit (WICU)
Another unique aspect of our program is the WICU. The Women's ICU is a 5 bed unit for high acuity patients located adjacent to L&D. This unit is for the most critically ill patients – including those with antepartum, postpartum or postoperative complications. Over the past 18 months, this area is where we have also provided care for our patients who were critically ill due to COVID-19. In the past, these patients would be transferred to the medical or surgical ICU at OHORMC (across the street from WPH). The WICU has allowed many of these patients remain at WPH and facilitates active involvement by our resident and attending physicians. We have the assistance of the OB/GYN subspecialists (MFM, Gyn Oncology) and the medical/surgical critical care teams as needed. The result is the ability for residents to be involved in the care of their critically ill patients for the entirety of their hospitalization and allowing tremendous educational opportunities, especially critical care topics.
Gyn Surgery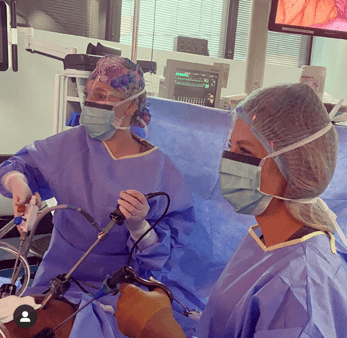 The Gyn surgical floor has 8 surgical suites, and 3 robots (2 with teaching consoles). All routes of surgical management are explored to provide the best care for our patients, including vaginal, laparoscopic (robotic and straight laparoscopy), and open cases. Orlando Health Winnie Palmer Hospital has been designated as a Center of Excellence for Minimally Invasive Gynecological Surgery. Residents operate with both faculty attendings, as well as private practice physicians from the community. Additional Urogynecology faculty has been added to increase resident experience with vaginal cases.
2019:
Over 4200 gynecology cases
1532 robotic cases
81% minimally invasive hysterectomy rate (amongst the highest in the nation)
3 Robots – 2 with teaching consoles
1 Robotic simulator
To illustrate the extent of our MIS cases, the 3 robots at our institution are used solely for gynecologic surgery (the other surgical residents/specialties have their own ORs/Robots at ORMC).
Antepartum Special Care Unit
Antepartum Special Care Unit (ASCU) is a 34-bed unit providing care for patients requiring inpatient care during the antepartum period. It is one more aspect of what differentiates our residency program from other programs. The complexity and volume of patients on this unit is unlike any other program. This unit, much like the rest of Orlando Health Winnie Palmer Hospital, is very busy. With over 14,000 deliveries annually, we see many antepartum complications. On this unit both resident and select private patients are cared for by our residents and MFM faculty. Typically, the daily census of patients on this unit is 25-35. Residents often witness/experience cases that many physicians only read about in the literature due to the rare occurrences.
Neonatal Intensive Care Unit
The Neonatal ICU at our facility is a 142-bed unit, making this the largest NICU in the nation at a single location. This Level IV NICU provides the highest level of care for babies delivered prematurely and those with comorbidities. Our neonatology department is on the forefront of advancing neonatology care with their work with infants at peri viable gestational ages (22-23 weeks gestation). They have extensive expertise and data regarding care of the tiny baby cohort. Our institution has had a great degree of success compared to currently published literature. The NICU impacts our program in that we have patients that are transferred to OHWPH due to their early gestation and the need for a high acuity NICU. These patients enhance the educational experience of our residents.
Innovations at Orlando Health Winnie Palmer Hospital
Our residents and faculty also are involved in some of the most challenging and cutting-edge changes taking place in our specialty. Below are some of the exciting innovations that are part of our program:
Morbidly Adherent Placenta/Placenta Accreta Spectrum team

Placenta accreta spectrum (PAS) is one of the most complex and potentially life-threatening conditions in obstetrics. Across the nation, the rate of placenta accreta spectrum disorders have increased. As a leader in women's healthcare, we have developed a Placenta Accreta Spectrum program to provide the best care for these complex patients. We have a specialized, multidisciplinary team, composed of MFM, gyn oncology, trauma surgery, interventional radiology, pathology, generalist OB/GYNs and residents, dedicated to providing the best care to these critical patients. Our team meets regularly to coordinate care for these patients, starting with discussion of antepartum imaging to confirm diagnosis, plan preoperative/intraoperative care, and reviews of past cases to look for areas for improvement.

Our program was founded in 2016, and we have done over a 100 PAS cases. We have used the evidence (our own institutional data, as well as national data) to continually improve our protocol/methods. We have progressively demonstrated improvements in intraoperative blood loss, decreased time in the OR, and shorter ICU stays, with 0 maternal deaths. Recently we have had success performing some cases under regional anesthesia and without the use of vessel occlusive methods (REBOA, embolization). We also recently developed a multidisciplinary research consortium which is preparing our protocol and other data for publication. With this program, we aim to be national leaders on this topic with our wealth of experience and high volume of cases.

Open Fetal Surgery

Over the past few years, in partnership with Orlando Health Arnold Palmer Hospital, we have developed the Fetal Care Center. The Fetal Care Center involves multiple pediatric specialties who provide care for children with congenital fetal issues. One part of the Center is the Fetal Surgery Program, a multidisciplinary team comprised of pediatric neurosurgery, MFM, and nursing that performs antenatal fetal surgery to correct/repair fetal neural tube defects in utero. It is the only program in the state of Florida, and one of only a few in the nation. It involves performing a hysterotomy, performing surgery on the fetus, closing the uterus, and then continuing the pregnancy. They are working on the leading edge of medicine to perform a procedure that can profoundly alter the quality of life for the baby and its family after delivery.
Clearly Orlando Health Winnie Palmer Hospital for Women & Babies is a unique institution. It is one of the busiest OB/GYN (and neonatal) facilities in the nation, and we use this asset to provide outstanding training to our residents.