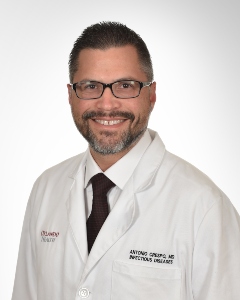 Program Director's Welcome
Welcome to the Orlando Health Infectious Diseases fellowship. Our program was accredited by the ACGME in early 2008. We accept 2 fellows every year to our program. Our fellows see patients at Orlando Health Orlando Regional Medical Center as well as our other hospital locations throughout Central Florida including Orlando Health Dr. P. Phillips Hospital, Orlando Health South Seminole Hospital and Orlando Health - Health Central Hospital, supporting a well-rounded clinical experience.
The city of Orlando and Central Florida offers a unique environment for infectious disease pathology diversity as well as an opportunity for a comprehensive integrative training.
Our fellows work alongside our faculty members and actively manage patients on our general consult along with internal medicine, cardiovascular, surgery, trauma, orthopedics and neurological/neurosurgical subspecialty consult services as well as bone marrow transplant services. In addition to this clinical experience, our fellows are also on the forefront of educating other graduate medical education professionals including medical students as well as residents from our other medical, surgical and pharmacy residency programs. We pride ourselves on being a largely clinically-focused program. There is, however, plenty of opportunity dive into research projects, and partake in our Division's Antimicrobial Stewardship and Infection Control Committee along with our excellent ID Pharmacy group.
The Division of Infectious Diseases at Orlando Health offers an Infectious Diseases Fellowship dedicated to training physicians to become leaders in the field of Infectious Diseases, we are pleased that you are considering us for your training.
Antonio Crespo, MD
Program Director
---