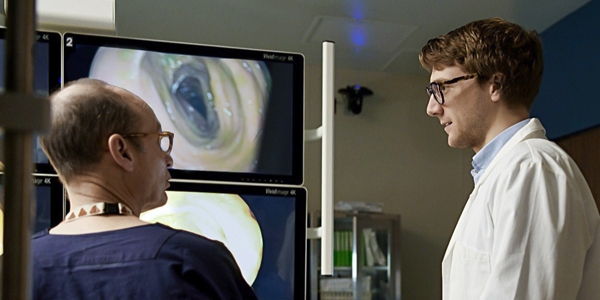 The clinical training curriculum is designed based upon society guidelines and is compliant with ACGME requirements. Our comprehensive clinical training program includes direct patient care, endoscopic procedures, subspecialty rotations, and didactic teaching opportunities.
Patient Care
Fellows will provide direct patient care during consultations in the outpatient clinics and inpatient rotations. During inpatient rotations, fellows will officiate as junior faculty by supervising and teaching internal medicine residents and medical students alongside assigned staff physicians. Fellows will officiate as team leaders and will be provided with the opportunity to balance patient care with supervision and teaching. In outpatient clinics, fellows work with expert faculty to foster strong clinical skills and build their own panel of patients in their longitudinal clinics. Fellows will also rotate through all subspecialty clinics for a well-rounded gastroenterology experience and will have elective time to foster further learning in subspecialty of their choice.
Procedures
All procedures are performed by fellows under the direct supervision of faculty in inpatient, outpatient, and emergent settings. Procedural training will include diagnostic upper endoscopy, small bowel enteroscopy, capsule endoscopy, colonoscopy and all current therapeutic modalities including polypectomy, hemoclip application, electrocautery, coagulation, banding, dilation, percutaneous endoscopic gastrostomy tube placement and stenting procedures. Motility clinic experience will include training in esophageal & anorectal manometry and esophageal pH readings. Fellows will gain exposure to advanced endoscopic procedures such as endoscopic retrograde cholangiopancreatography, endoscopic ultrasound and endoscopic mucosal resection. The fellows will gain incremental autonomy in performing various steps of the procedures based on skillset development. The procedural competency will be tracked by direct supervision, feedback, and procedure log.