Monica Lee-Griffith, MD
Obstetrics and Gynecology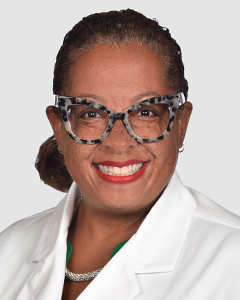 Medical School: Wayne State University School of Medicine
Residency: Henry Ford Hospital/Wayne State University Program
Dr. Monica Lee-Griffith is vice president of Orlando Health Medical Group and president of Women's Health Needs. Before joining Orlando Health, Dr. Lee-Griffith worked for more than 20 years in health care in Detroit, Michigan. Her responsibilities at the Henry Ford Health System (HFHS), a national leader in clinical care, research and education, included progressive leadership roles within the Department of Obstetrics and Gynecology. She was a senior staff attending physician and vice chairperson of the women's health services at the Henry Ford Medical Group, and chief obstetrical hospitalist and medical director of obstetrics at Henry Ford Hospital. While at HFHS, she completed a fellowship in strategies to promote health equity.
A board-certified obstetrician and gynecologist, Dr. Lee-Griffith also is a hospitalist at Winnie Palmer Hospital for Women and Babies, where she coordinates care for women during their hospital stay.
Dr. Lee-Griffith is committed to reducing healthcare disparities with a leadership style characterized by integrity, collaboration and a dedication to excellence. She is a member of the U.S. Department of Health and Human Services Premier Maternal and Infant Health National Advisory Panel. In 2020, Hour Detroit magazine named Dr. Lee-Griffith as one of the area's top doctors of obstetrics.
She is a fellow of the American College of Obstetricians and Gynecologists and is board certified by American Board of Obstetrics and Gynecology.