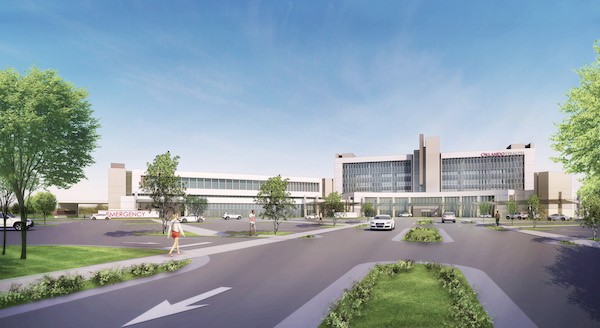 Orlando Health Horizon West Hospital Opening January 2021
To help meet the needs of one of the fastest growing communities in the state of Florida, Orlando Health Horizon West Hospital will open its doors on Jan. 30, 2021. The beautiful six-story, 214,000-square-foot facility will feature a 120 patient bed capacity. It will also seamlessly integrate the 78,000-square-foot emergency department and medical pavilion that have been open on the campus since 2018.
The new hospital will be located at the intersection of Porter Road and Avalon Road in Winter Garden. It will bring together comprehensive health services, personalized care, and state-of-the-art treatments in a convenient, one-stop facility.
Comprehensive, Personalized Care
Orlando Health Horizon West Hospital will have experts in multiple specialties to provide complete health care. In addition, the experienced and compassionate team members at Orlando Health Horizon West Hospital will offer personalized treatment plans that cater to each patient's unique needs.
Within the new hospital, patients will have access to:
Cardiovascular care
Emergency care
Surgical services
In the medical pavilion adjacent to the hospital, patients have access to both primary (general) health care, as well as specialized physicians. The benefit of this is that patients will be able to see a doctor or specialist, get imaging, laboratory or diagnostic tests, and receive the latest treatments all in one location.
State-of-the-Art Technology
The new Orlando Health Horizon West Hospital will feature the latest technology in cardiovascular care, diagnostic imaging and minimally invasive robotic surgery. It will offer state-of-the-art CT, MRI, X-ray and ultrasound equipment. This means patients will have access to the best technology that is currently available. The hospital will also offer outpatient imaging and laboratory services to provide convenient access for those needs of the community.
Ready for Growth in Horizon West
Located in the flourishing community of Horizon West, the new hospital can grow along with the neighborhood as it expands. Orlando Health Horizon West Hospital is prepared for this expansion with three floors set aside for the future as the number of patients grows. With an almost 80-acre campus available, there is growth capacity for the future, and the plan is to develop along with the community.