Jazz Musician Gets into the Rhythm with Pacemaker
By Orlando Health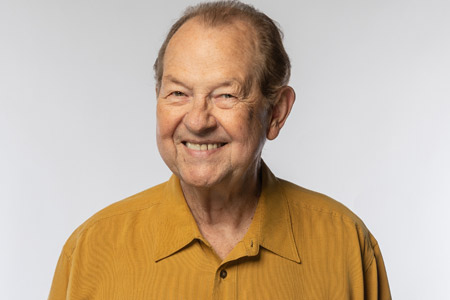 They say music can help a person stay young. Bill Allred, a lifelong jazz musician, is living proof of that. At 83, Bill still plays his trombone as the leader of his own classic jazz band. Bill has memories of playing his trombone with some of the greats such as Dizzie Gillespie, Ray Charles, the Temptations and Harry Connick, Jr. In Orlando, Bill is known for starting Rosie O'Grady's Good Time Jazz band, which performed at Church Street Station in downtown Orlando for many years. He also was one of the original staff members of the music department at Disney World in Orlando when it opened in 1971.
Yet, even the inspiring life of a successful musician can be interrupted with some unexpected curve balls. What matters is if you keep on swinging, and Bill is a prime example of someone who does just that. After undergoing lung cancer surgery and chemotherapy treatment more than 15 years ago, Bill continued to play his trombone, an activity supported by his doctors because of its beneficial cardiovascular effects.
Getting into a Jam with AFib
Bill also discovered that he had atrial fibrillation (AFib), typically characterized by a rapid heartbeat at times, which he had been managing with medication to keep his heartbeat more regular.
After a few years on his AFib medication, however, Bill began feeling "drained of energy" and would occasionally faint and pass out. His cardiologist with the Orlando Health Heart & Vascular Institute, Dr. Joel Garcia, had Bill wear a cardiac event monitor for a number of days to record what was happening with his heart. They discovered that every once in a while, Bill's heartbeat would stop and take five to six seconds to start again. This problem would take more than medicine to manage, so Bill was referred to a cardiac specialist known as an electrophysiologist who specializes in treating patients with heart rhythm disorders.
"When I first saw Bill and learned that he had recently passed out while shopping at a grocery store, I was very concerned," says Dr. Luis Garcia, an electrophysiologist with Orlando Health Heart & Vascular Institute. Dr. Garcia admitted Bill to Orlando Health Dr. P. Phillips Hospital where he performed a pacemaker implant procedure.
When I first saw Bill and learned that he had recently passed out while shopping at a grocery store, I was very concerned.

– Dr. Luis Garcia, Electrophysiologist, Orlando Health Heart & Vascular Institute
"The pacemaker treats a slow heartbeat by watching the heartbeat all the time," explains Dr. Garcia. "If the heart misses a beat, it kicks in to keep the heart beating normally."
Bill hasn't experienced any more fainting episodes since getting his pacemaker, and he isn't even aware of the pacemaker in his chest. "Dr. Garcia has been wonderful to me. The care I've gotten at Orlando Health has been very personable. I like that when you ask a question, you get an answer."
Different Rhythms of AFib
AFib can occur when a heart beats too quickly at times, or too slowly, which is often the case with elderly people. Sometimes, as in Bill's case, AFib can be a combination of the two, known as tachy-brady syndrome, when the heart sometimes beats too quickly and sometimes beats too slowly.
A large number of people with AFib don't notice an irregular heartbeat but experience the chronic symptoms of AFib, which include fatigue and a lack of pep, says Dr. Garcia.
"When the heart rhythm is not right, you lose a lot of electrical efficiency," explains Dr. Garcia. "If you've lost that, your body's not quite right – you may gain a few pounds, retain fluids more and experience a drop in overall energy."
Due to the possibility of AFib causing a stroke or heart attack, it's important to diagnose and treat the condition. AFib is often detected during a checkup with a primary care doctor while listening to a patient's heartbeat or through an EKG test.
State-of-the-art procedures are available at the Orlando Health Heart & Vascular Institute to treat AFib. According to Dr. Garcia, lifestyle changes also can play an important role in managing AFib, including weight management, controlling hypertension and treating sleep apnea, if present.
For more information about Orlando Health's AFib program, visit OrlandoHealth.com/AFib.