Orlando Health Reimagines South Seminole Hospital Campus as a Healthcare Hub for Longwood
Plan Includes a New Free-Standing Emergency Department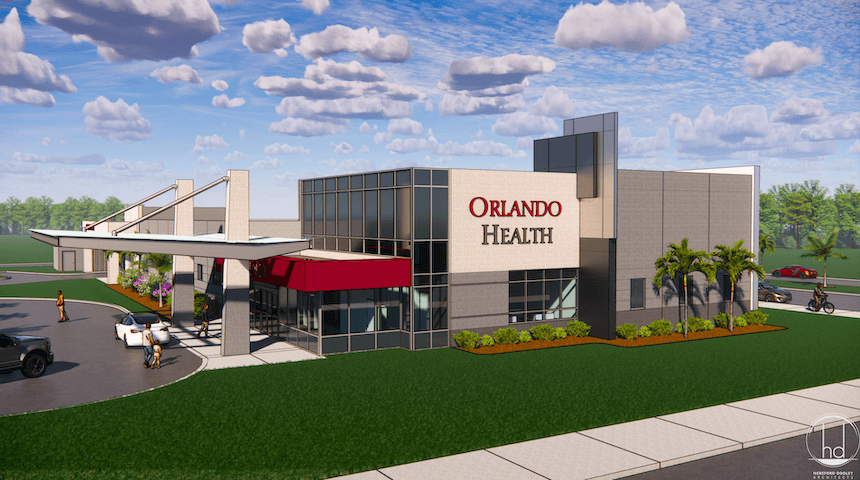 Orlando Health plans to reimagine its current Seminole County campus as a healthcare hub in downtown Longwood, anchored by a new free-standing emergency department (FSED).
Plans call for the FSED to be built and ready to serve the community in the summer of 2024, concurrent with the closure of Orlando Health South Seminole Hospital and the opening of the new Orlando Health Lake Mary Hospital.
Leaders at Orlando Health and officials with the City of Longwood are working together to create a destination for residents that complements the redesigned Reiter Park. The current campus is envisioned to include a 15-acre town center for the City of Longwood comprising a high-quality mix of multi-family residential, retail and office uses.
"We're very proud of our nearly 40-year history here in Longwood as a hospital caring for so many people in our community and as one of the largest employers in the area," says Shawn Molsberger, senior vice president of Orlando Health's northeast region and president of Orlando Health South Seminole Hospital. "Working closely with the city, we're making an investment into our community that allows us to continue providing a high level of care while bringing in new amenities that will further enhance the quality of life for Longwood residents."
Most of the Longwood campus will be redeveloped, leaving two existing medical office buildings to continue offering important services such as cardiology, pulmonology, rehabilitation, general surgery, infectious disease, and urology. Plans are also underway to relocate behavioral health services at South Seminole Hospital to a new Central Florida location, where Orlando Health will develop a new dedicated facility to allow for greater access to clinical mental health services. An announcement on the new behavioral health project is expected soon. Construction on the new Longwood FSED is expected to begin in early 2023.
Orlando Health Lake Mary Hospital Opening in Summer 2024
The new Orlando Health Lake Mary Hospital represents the next phase of growth for Orlando Health's Lake Mary campus. It will have 180 beds housed in two six-story towers with the ability to expand up to 240 beds. At 320,000 square feet, Orlando Health Lake Mary Hospital will be a comprehensive acute care facility. A key focus area for the new hospital will be women's health, including labor and delivery services, and a future neonatal intensive care unit. The new facility will include six state-of-the-art operating rooms and two catheterization labs, a comprehensive imaging suite, medical-surgical bed units, an observation unit, dining, chapel and gift shop, among other features.
Once completed in 2024, the hospital will be connected to the existing Orlando Health Emergency Room – Lake Mary, which opened in September 2019 featuring 25 treatment rooms, an imaging department, outpatient pharmacy and lab draw station. Patients also have access to full ambulatory services and a helipad. Located next door on the campus is the 60,000-square-foot Orlando Health Medical Pavilion offering several outpatient specialties including, pulmonology, pediatrics, obstetrics and gynecology, urology, orthopedics, general surgery, cardiology, vascular and cardiac rehab.
The emergency room and medical pavilion opened September 2019 offering a wide range of clinical services to Lake Mary and surrounding communities.
The Orlando Health Emergency Room – Lake Mary consists of a two-story, 40,000-square emergency department, provided as a service of Orlando Health South Seminole Hospital. The emergency department is staffed by physicians board certified in emergency medicine and nurses certified in Advanced Cardiac Life Support, Pediatric Advanced Life Support and neonatal resuscitation. The facility includes 24 treatment rooms, trauma resuscitation plus a lab, imaging department, ambulance bays and helipad.
Emergency Expertise and Services
24/7 adult and pediatric emergency care
Board-certified emergency medicine physicians
Nurses certified in Advanced Cardiac Life Support, Pediatric Advanced Life Support and advanced training in trauma
Dedicated cardiac/respiratory resuscitation room
Cardiac monitoring
Diagnostic imaging including CT scan, ultrasound and X-ray
Full-service laboratory
This is not an urgent care. Its services and care are billed at emergency department rates.
Orlando Health Medical Pavilion
The Orlando Health Medical Pavilion — Lake Mary offers a convenient, one-stop location for comprehensive health care. Coordinated care from Orlando Health's network of high-performing physicians all in one location enables patients and their families to make the most efficient use of their time by consolidating a variety of services and specialties within one building.
The emergency room is located at 380 Rinehart Rd. and the neighboring medical pavilion is at 392 Rinehart Rd. in Lake Mary, (corner of Rinehart Road and Caring Drive).