About Orlando Health
Orlando Health, headquartered in Orlando, Florida, is a not-for-profit healthcare organization with $7.6 billion of assets under management that serves the southeastern United States.
Founded more than 100 years ago, the healthcare system is recognized around the world for its pediatric and adult Level One Trauma program as well as the only state-accredited Level Two Adult Trauma Center in the St. Petersburg region. It is the home of the nation's largest neonatal intensive care unit under one roof, the only system in the southeast to offer open fetal surgery to repair the most severe forms of spina bifida, the site of an Olympic athlete training facility and operator of one of the largest and highest performing clinically integrated networks in the region.
Orlando Health has pioneered life-changing medical research and its Graduate Medical Education program hosts more than 350 residents and fellows. The 3,200-bed system includes 16 wholly-owned hospitals and emergency departments; rehabilitation services, cancer and heart institutes, imaging and laboratory services, wound care centers, physician offices for adults and pediatrics, skilled nursing facilities, an in-patient behavioral health facility, home healthcare services in partnership with LHC Group, and urgent care centers in partnership with FastMed Urgent Care. Nearly 4,500 physicians, representing more than 90 medical specialties and subspecialties have privileges across the Orlando Health system, which employs more than 23,000 team members. In FY21, Orlando Health served nearly 160,000 inpatients and nearly 3.6 million outpatients.
About Orlando Health Cancer Institute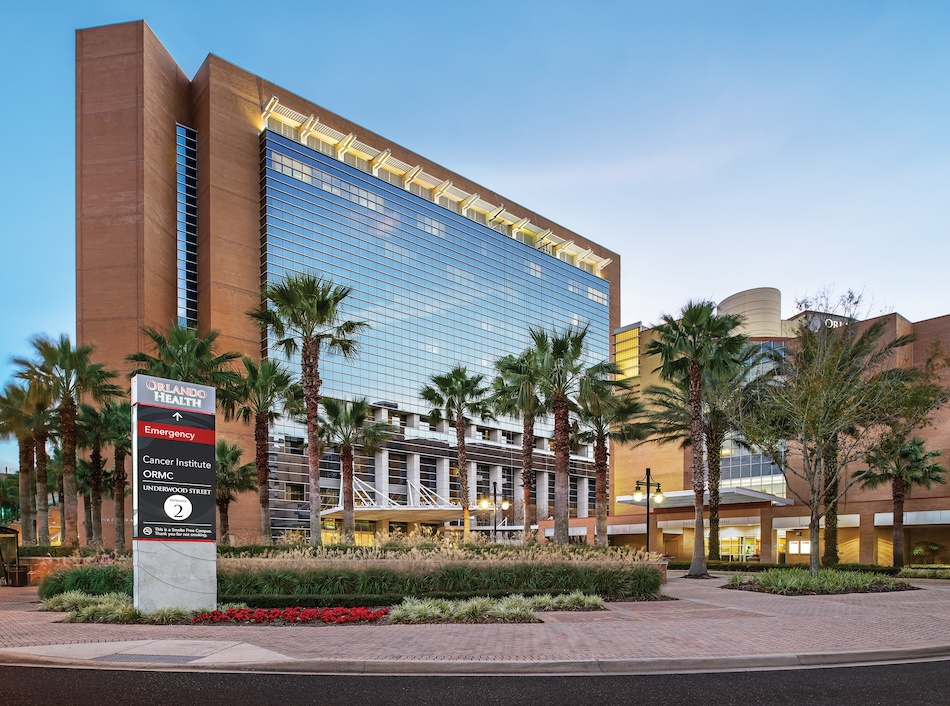 Orlando Health Cancer Institute has been providing exceptional and compassionate care in Central Florida for more than 37 years, led by the best cancer doctors in our state-of-the-art facilities to diagnose and provide all phases of treatment and follow-up.
Our flagship location is the Charles Lewis Pavilion, a 10-story, 220,000-square-foot facility with 60 private inpatient beds dedicated to our oncology units. The multidisciplinary cancer team includes board-certified surgeons, medical and radiation oncologists, pathologists, radiologists, nurses, therapists, advanced practice providers and researchers. Since our beginning in 1983 as the ORMC Center for Cancer Treatment, we've treated more than 100,000 patients.
In 2016, the institute opened the $25 million Marjorie and Leonard Williams Center for Proton Therapy – the only one of its kind in Central Florida and one of five in the state, allowing the targeting of tumors with higher doses of radiation, while significantly reducing damage to healthy tissue. Doctors at Orlando Health Cancer Institute also participate in numerous research studies and clinical trials, allowing us to bring leading-edge treatment options to our patients.
The institute has a new Bone Marrow Transplant and Cellular Therapy Program using autologous and allogeneic BMT to treat adult blood cancers, including leukemia, lymphoma and multiple myeloma. Also at the institute is the Cancer Genetics and High-Risk Care Center – the only one of its kind in Central Florida – focusing on patients identified as high risk for breast and other cancers by personal history, family history or genetic testing. Patients work closely with an oncologist and genetic counselor to build a roadmap for the future, including surveillance, risk-reduction plan and lifestyle changes.
Welcome to Orlando Health Cancer Institute
Take a virtual tour of Orlando Health Cancer Institute