Sonali Raman, MD
Female Pelvic Medicine and Reconstructive Surgery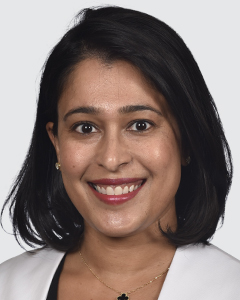 Medical School: Northeastern Ohio Medical University
Residency: George Washington School of Medicine and Health Sciences
Fellowship: Warren Alpert School of Medicine of Brown University
Dr. Sonali Raman is a board-certified female pelvic medicine and reconstructive surgeon at Orlando Health Winnie Palmer Hospital Center for Urogynecology. She specializes in diagnosing and treating pelvic floor disorders, including urinary incontinence, pelvic organ prolapse, fistulas, anal sphincter defects, pelvic pain, menopause and peri-menopausal conditions and vulvar disorders.
Dr. Raman has participated in several international programs, including an internship at the World Health Organization (WHO) in Geneva, Switzerland. She also has volunteered her clinical skills in India and Rwanda. She has contributed to a dozen peer-reviewed publications, ranging from pelvic organ prolapse, cancer of the uterus and stress urinary incontinence to fistulas and patient knowledge of urogynecologic surgery. In addition, she serves as a reviewer for the American Journal of Obstetrics and Gynecology.
Dr. Raman is double board-certified in obstetrics and gynecology as well as female pelvic medicine and reconstructive surgery by the American Board of Obstetrics and Gynecology. She also is a fellow of the American Council of Obstetricians and Gynecologists and has led many quality improvement projects that optimize patient outcomes and physician efficiency.