Farhan Javed Khawaja, MD
Core Faculty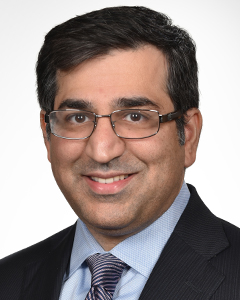 Farhan J. Khawaja, MD, is a cardiologist and managing physician with the Orlando Health Heart and Vascular Institute. Dr. Khawaja is board certified in internal medicine, cardiovascular diseases, interventional cardiology, nuclear cardiology, vascular medicine and endovascular medicine, and is a registered physician in vascular interpretation (RPVI).
Dr. Khawaja earned his medical degree from Albany Medical College in New York. He completed his internal medicine residency and cardiovascular diseases fellowship at the Mayo Clinic, followed by fellowships in interventional cardiology, and vascular and endovascular medicine at Columbia University Medical Center. He was also on the faculty of Columbia University as an instructor of medicine.
Prior to joining Orlando Health, Dr. Khawaja was the director of the Vascular Center at the Oklahoma Heart Institute in Tulsa. He dedicated a significant portion of his time to the non-invasive and invasive management of patients suffering from peripheral arterial disease.
Dr. Khawaja has been published in multiple journals. He is a fellow of both the American College of Cardiology and the Society for Cardiovascular Angiography Interventions.