Overview
Orlando Health, headquartered in Orlando, FL, was founded more than 100 years ago. Nearly 4,500 physicians representing more than 90 medical specialties and subspecialties have privileges across the Orlando Health System, which employs nearly 22,000 members. Orlando Health is a not-for-profit healthcare organization with $7.6 billion of assets under management that serve the southeastern United States.
The 3,200-bed system includes 16 wholly-owned hospitals and emergency departments; rehabilitation services, cancer institutes, heart institutes, imaging and laboratory services, wound care centers, physician offices for adults and pediatrics and skilled nursing facilities. Areas of clinical excellence are orthopedics, heart and vascular, cancer care, neurosciences, surgery, pediatric specialties, neonatology, women's health and trauma.
Orlando Health's major hospitals as follows:
| | |
| --- | --- |
| Orlando Health Hospitals | Number of Licensed Beds |
| Downtown Campus | |
| Orlando Health Orlando Regional Medical Center | 808 |
| Orlando Health Arnold Palmer Hospital for Children | 158 |
| Orlando Health Winnie Palmer Hospital for Women & Babies | 285 |
| Additional Orlando Health Campus Locations | |
| Orlando Health Dr. P. Phillips Hospital | 237 |
| Orlando Health- Health Central Hospital | 171 |
| Orlando Health Horizon West Hospital | 120 |
| Orlando Health South Lake Hospital | 170 |
| Orlando Health South Seminole Hospital | 206 |
| Orlando Health St. Cloud Hospital | 84 |
| Bayfront Health St. Petersburg | 480 |
Orlando Health Orlando Regional Medical Center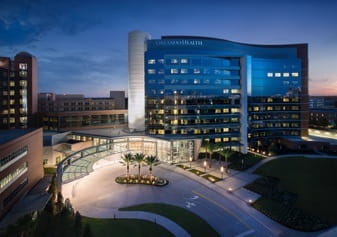 Orlando Health Orlando Regional Medical Center (ORMC) is the 808-bed flagship hospital of Orlando Health, located on the downtown campus, and is one of the largest tertiary facilities in the region. For more than 100 years, Orlando Health ORMC has been caring for the Central Florida community and providing the most advanced care available for all surgical, medical, rehabilitative and emergency needs. It is served by a highly qualified team of physicians, nurses and clinical staff as well as the very latest in technology and diagnostic imaging capabilities. ORMC is home to the area's only Level One Trauma Center, serving 18 counties and is a comprehensive stroke center, regional burn center, and STEMI receiving center. It has a 96 bed ED and provides care for more than 107,000 ED patients each year.
Orlando Health Orlando Regional Medical Center has been recognized by the Society of Cardiovascular Patient Care (SCPC) with Chest Pain Accreditation with PCI (percutaneous coronary intervention), Heart Failure Accreditation and Atrial Fibrillation Certification. In addition, ORMC is one of only two hospitals in Florida, and the only one in Central Florida to receive the designation of Full Atrial Fibrillation with Electrophysiology Services (EPS) Accreditation from the SCPC.
Consistently recognized as a Best Regional Hospital by US News & World Report and within the top 10 in the state of Florida, ORMC has been rated as high performing in all four cardiovascular procedures and conditions, including: Transcatheter aortic valve replacement (TAVR), heart bypass surgery, heart failure and aortic valve surgery.
Welcome to Orlando Health Orlando Regional Medical Center
Take a virtual tour of Orlando Health Orlando Regional Medical Center
Orlando Health Heart & Vascular Institute
Orlando Health Heart & Vascular Institute (OHHVI) is located on the main Orlando Health campus, directly across from Orlando Health Orlando Regional Medical Center. Made up of a team of renowned cardiovascular professionals collaborating to create better patient outcomes, the programs and services are integrated enabling multidisciplinary care designed to meet the patient's cardiac needs. OHHVI is comprised of a multitude of cardiac outpatient clinics and services including:
General Outpatient Cardiology Clinic
Arrhythmia Clinic
Congestive Heart Failure (CHF) Clinic
Coumadin Clinic
Structural Heart/Valve Clinic
Vein Clinic
Cardiac Catheterization
Cardiac Device Implantation
Cardioversion
Coronary Intervention (PCI)
Carotid Doppler Ultrasound
Echocardiography
Electrophysiology Studies
Holter & Cardiac Event Monitoring
Nuclear Medicine
Peripheral Vascular Studies
Tilt Table Testing
The Cardiovascular and Thoracic Surgery Group earned the highest quality rating from the Society of Thoracic Surgeons for: CABG, AVR, and combined CABG and AVR.
Take a Virtual Tour of Orlando Health Heart and Vascular Institute.
Graduate Medical Education Statistics
Orlando Health has a total of 308 Residents and Fellows
*ACGME Accredited Program
Residency Programs: 9
Internal Medicine*
Emergency Medicine*
General Surgery*
OB/GYN*
Orthopedic Surgery*
Pathology*
Pediatrics (UF Health)*
Pharmacy
Neurology*
Fellowship Programs: 20
| | |
| --- | --- |
| Bariatric Surgery | Orthopedic Trauma |
| Cardiovascular Diseases* | Orthopedic Sports Medicine* |
| Colon and Rectal Surgery* | Orthopedic Hand Surgery* |
| Critical Care Medicine* | Pediatric Critical Care Medicine (UF)* |
| Emergency Medicine Simulation | Pediatric Emergency Medicine* |
| Emergency Medicine Ultrasound | Pediatric Gastroenterology |
| Hematology/Oncology* | Pediatric Orthopedics* |
| Infectious Disease* | Pulmonary Diseases* |
| Interventional Cardiology* | Pulmonary Disease & Critical Care Medicine* |
| Minimally Invasive Surgery | Surgical Critical Care* |