Core Curriculum
Pulmonology Consults
Experienced, expert and always available faculty who are deeply committed to pulmonary medicine education.
Exposure to a diverse inpatient population with a wide variety of pulmonary pathology.
Dedicated time will be given for lectures and clinic to ensure quality training.
Opportunities for beside procedures such as thoracenteses.
Fellowship Ultrasound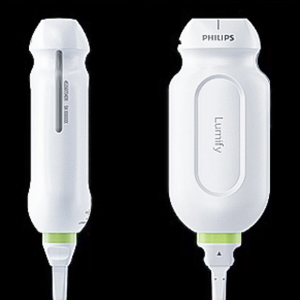 4 to 1 MHz extended operating frequency range
2D, color Doppler, M-mode, advanced XRES and multivariate harmonic imaging
High resolution imaging for abdominal, lung and cardiac applications
Fellows will have access to our programs personal ultrasound and train to be proficient in bedside ultrasound
Interventional Pulmonology and Procedure Fellow
Our team includes board-certified interventional pulmonologists, thoracic surgeons, oncologists and anesthesiologists. Together, we provide a comprehensive multidisciplinary approach to better treat and diagnose patients with complex airway, lung, and pleural diseases.
Extensive hands-on education and abundant practice opportunity in Thoracenteses, PleurX catheters, General bronchoscopy, advanced diagnostic procedures like Electro Navigational Bronchoscopy, Endobronchial Ultrasounds, Cryotherapy, Argon Plasma Coagulation, Balloon dilation and other interventional pulmonary procedures
Fellows' Clinic
In-depth clinical exposure to patients with a diverse and extensive spectrum of pulmonary, cardiac, oncologic and sleep disorders.
Establish your own panel of patients through fellowship and provide continuity of care.
Rotate through specialty services such as interstitial lung disease, pulmonary hypertension, sleep medicine, asthma, chronic obstructive lung disease, cystic fibrosis, non-tuberculosis bronchiectasis and neuromuscular disease.
Pulmonary Hypertension
Patients with all types of pulmonary hypertension (WHO groups 1-5) are actively evaluated and treated in the Pulmonary hypertension clinic within the Orlando Health Heart and Vascular Institute. All faculty physicians are board-certified pulmonologists with a special interest and expertise in pulmonary vascular disease and hemodynamic evaluation.
Modern diagnostic modalities, including cardiac MRI and cardiopulmonary exercise testing, are available. Treatment modalities include oral drugs as well as inhaled, subcutaneous and intravenous medications. Clinics offer mechanical and surgical rescue therapies (e.g., ECMO, right ventricular support devices). The program will soon be in the evaluation and accreditation phase to become a Pulmonary Hypertension Association Accredited Center of Comprehensive Care.
Interstitial Lung Disease
Interstitial Lung Disease (ILD) is a heterogeneous group of lung disorders characterized by inflammation of lung tissue which leads to scarring and fibrosis if untreated. At Orlando Health, we have a team of dedicated pulmonary physicians who specialize in Interstitial Lung Disease to provide care for this complex patient population. We evaluate patients with a large variety of conditions including idiopathic pulmonary fibrosis, connective tissue disease-associated ILDs, hypersensitivity pneumonitis, smoking-related ILDs, and sarcoidosis.
Comprehensive care for these patients includes visits to our ILD clinic, state of the art diagnostic and therapeutic modalities, pulmonary rehab, and a multidisciplinary approach involving multiple subspecialties. We work closely with our colleagues in Rheumatology, Cardiology, Gastroenterology, and Pulmonary hypertension.
Fellows will receive training from experienced physicians. They can rotate through our ILD clinic and join our team for monthly Radiology rounds where our program reviews high-yield and clinically relevant pulmonary and critical care images.
Critical Care Training
Training focuses on an in-depth clinical experience that utilizes a multidisciplinary approach to the care of critically ill patients. Faculty members share in caring and managing each patient and provide direct supervision to fellows.
Fellows will have the opportunity to train through the Medical ICU, Coronary Care Unit, Cardiovascular ICU, Neuro ICU, Surgical/Trauma ICU and Women's ICU.
Electives
Advanced Bronchoscopy
Critical Care Pharmacodynamics
Critical Care Nutrition
ECMO
Interstitial Lung Disease
ICU Telemedicine
ICU Administration and Quality Improvement
Mechanical Circulatory Support/CVICU
Point-of-Care Ultrasound
Palliative Care
Pulmonary Rehab
Pulmonary Hypertension
Research
Respiratory Care
Transition to Clinical Practice (Health Central Hospital)
Transplant (Advent Health - Orlando)
Various subspeciality Rotations including but exclusive to Infectious Disease, Nephrology, Cardiology, Advanced Heart Failure
We can also help create any elective experience you would like.
Didactics and Educational Experience
Pulmonary and Critical Care Grand Rounds
Pulmonary and Critical Care Journal Club
Pulmonary and Critical Care Morbidity and Mortality
Pulmonary and Critical Care Research and Quality Improvement Conference
Pulmonary and Critical Care Simulation
Fellow Conference
Board Review
Radiology Conference
Multidisciplinary Conferences:
Pulmonary and Critical Care Conferences
Pulmonary and Internal Medicine Conferences
Pulmonary/Infectious Disease Clinical Case Conference
Pulmonary/Surgical Critical Care Clinical Case Conference
Pulmonary/Cardiology Shock Conference
Pulmonary/Hematology-Oncology Conference
Pulmonary/Obstetrics and Gynecology
Pulmonary/Emergency Medicine- ECHO and POCUS Conference