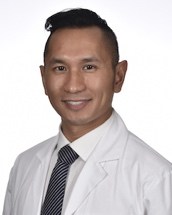 Minh Nguyen, MD
Hand and Upper Extremity
Minh D. Nguyen, MD, is a surgeon specializing in orthopedic hand surgery and soft tissue and vascular reconstruction. He is a member of the Orlando Health Orthopedic Institute and board-certified by the Board of Orthopaedic Surgery. He cares for patients with trauma and acute hand and upper extremity conditions.
Graduating cum laude, Dr. Nguyen earned his medical degree from the Ohio State University College of Medicine in Columbus. While earning his bachelor's degree in science at the University of Michigan in Ann Arbor, Dr. Nguyen was selected as a Fulbright Scholar and participated in an advanced overseas language program in Hanoi, Vietnam. Fulbright U.S. Scholar is a prestigious program sponsored by the United States Department of State, Bureau of Educational and Cultural Affairs. He then completed a residency in orthopedic surgery at Ohio State University and fellowship in hand and microsurgery at Baylor College of Medicine in Houston.
An active volunteer, Dr. Nguyen dedicated a year to serving as chief financial officer and a national rider for The Ride for World Health, a nonprofit organization he created during medical school. Biking 3,000 miles from San Diego to Virginia Beach, he raised awareness and $80,000 to fight HIV/AIDS and tuberculosis. And, he also served as a team founder and leader for Project Help Haiti, caring for patients and improving the infrastructure for a hospital's surgical operation. During this time, he and his team treated victims of the 2010 earthquake that nearly destroyed Haiti.