Program Info
5 year residency (Est. 1950)
5 Residents per class
"Hybrid" training model
Academic & Private Practice Rotations
High Volume – Early OR Experience
Average of 2500 cases for 5 years
Only Level 1 Trauma in Orlando(Peds & Adult)
"Resident Run" program with autonomy
Family Atmosphere
Leaders in Research
General Information
As a member of the Orthopedic Surgical Residency Program at Orlando Health, you will be part of a bigger Graduate Medical Education team that is dedicated to meeting the challenges of one of the fastest growing communities. We offer a wide variety of residency programs and maintain teaching affiliations in many specialty areas. The fully accredited residency programs include general surgery, pediatrics, emergency medicine, internal medicine, obstetrics/gynecology and pathology. Our programs have been created to enhance relations and communications within the medical center for your benefit. As an orthopedic resident, you will discover that these programs help promote the Orlando Health philosophy, which is that people are the most important part of our organization.
Orlando Health is a not-for-profit healthcare organization spanning nine Florida counties with nearly 450 locations that include 13 hospitals and emergency departments; rehabilitation services, cancer centers, heart institutes, imaging and laboratory services, wound care centers, more than 300 physician offices for adults and pediatrics, and 12 urgent care centers in partnership with CareSpot Urgent Care. In FY18, Orlando Health served approximately 167,000 inpatients, more than 2.7 million outpatients, and more than 20,000 international patients.
Training Locations
Orlando Health Jewett Orthopedic Institute
Opening 2023, Orlando Health Jewett Orthopedic Institute is Florida's First Dedicated Orthopedic Hospital and expected to become the leading orthopedic center for excellence in the Southeast.
The new 375,000-square-foot downtown complex features a medical pavilion and a full-service orthopedic hospital. This premier clinical destination will bring our orthopedic services together under one roof, ensuring we provide high-quality, multidisciplinary care. The Institute will feature a total of 22 operating rooms and imaging services, including an ultrafast MRI with augmented reality, a 62-exam room clinic offering walk-in orthopedic care and physical therapy space, 75 inpatient smart rooms and a bio skills lab. The Institute was built with innovation, research and education in mind, aiming to be a touchstone and inspiration for all physicians and other professionals who practice and learn at the new center. The research and education center will include a 10-station cadaver lab and 3D printer, as well as a 116-seat auditorium for learning opportunities.
Orlando Health Orlando Regional Medical Center (ORMC)
Orlando Health Orlando Regional Medical Center (ORMC)is one of the largest tertiary facilities in the region and offers the most advanced care available for all surgical, medical, rehabilitative and emergency needs served by a highly qualified team of physicians, nurses and clinical staff as well as the very latest in technology and diagnostic imaging capabilities. ORMC is home to the area's only Level One Trauma Center, serving 18 counties and caring for adult patients as well as pediatric patients at the neighboring Orlando Health Arnold Palmer Hospital for Children. The patient care offers a offers a diverse mix of orthopedic surgical patients with no predominance of one particular disease.
Orlando Health Arnold Palmer Hospital for Children
Orlando Health Arnold Palmer Hospital for Children is a 156-bed facility dedicated exclusively to the needs of children, encompassing a wide range of pediatric subspecialties and is a major referral center for families across Florida. The Bert Martin's Champions for Children Emergency Department & Trauma Center at Arnold Palmer Hospital is part of the only Level One Trauma Center in the area and was the first facility in Central Florida to provide emergency care exclusively for pediatric patients.
Orlando Health Winnie Palmer Hospital for Women & Babies
Orlando Health Winnie Palmer Hospital for Women & Babies has labor and delivery rooms, postpartum and high-risk antepartum units, and full gynecology and reproductive services. It specializes in high-risk births and is the second-busiest labor and delivery center in the U.S.
Orlando Health Dr. P. Phillips Hospital
Orlando Health Dr. P. Phillips Hospital is a full-service medical/surgical facility near the tourism corridor of Orlando, serving visitors from around the world as well as residents of southwest Orange County. The hospital provides a complete continuum of care to patients across multiple specialties including one of Orlando Health's busiest ERs. In 2019 Orlando Health Dr. P. Phillips Hospital received the Advanced Total Hip and Knee Replacement Certification from The Joint Commission, one of the highest distinctions from the nationally recognized accrediting body.
Orlando Health South Seminole Hospital
Orlando Health South Seminole Hospital is a 206-bed, full-service, medical/surgical community hospital located in scenic Longwood, Florida, serving the residents of Seminole County. In 2019, Orlando Health South Seminole campus underwent major renovations including the addition and updates of surgical suites and equipment as well as other expansions including the outpatient rehabilitation center.
While orthopedic residents spend the majority of their time at Orlando Health Orlando Regional Medical Center and Orlando Health Arnold Palmer Hospital for Children on the main campus, they do rotate through the other Orlando Health hospitals. All of the call responsibilities are on the main campus.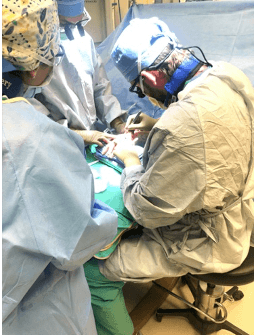 Program Strengths
Orthopedic residents are treated as post-doctorate students with emphasis on didactic curriculum as well as a learning-by-doing approach to clinical orthopedic surgery. Extensive hands-on experience is possible because of our high volume and the commitment of our staff to the teaching of orthopedic surgery. Physician's Assistants are utilized on the floor and in clinic to allow the residents to spend the majority of their time in the operating room.
The hands-on experience is extensive. By the third year, the resident will have been involved with the full range of orthopedic surgery. The orthopedic surgery service is busy, but not overwhelming. At all times, the resident's academic needs are given top priority and emphasis.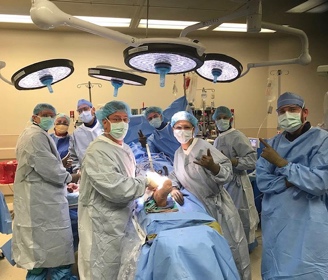 Residents and attending staff conduct regularly scheduled daily teaching conferences with active participation. And, our research program encourages resident participation and includes presentation of papers at local, national, and occasional international meetings. Two full time research coordinators are available to facilitate academic interests.
Academic Achievement
Our orthopedic residents have consistently achieved high scores on the National In-Training Examination, with an average above the 90th percentile. Over the past 15 years, all of our graduating residents have successfully passed their orthopedic board examinations. In addition, a number of residents have presented their clinical and basic science research studies at national and international meetings as well as having results published in national journals. Following completion of residency, our graduates are regularly accepted into highly competitive fellowships including sports medicine, hand and upper extremity, spine, and foot subspecialties.