Orthopedic Rotations
General Orthopedics Green & Gold Teams
Adult orthopedics/Trauma, including multisystem trauma. Diagnosis and management of adult orthopedic problems is particularly emphasized on the general orthopedic service rotation. The trauma experience is quite extensive as ORMC is Central Florida's only Level 1 trauma center and one of the busiest in the Southeast.
Gold Team (Drs. Haidukewych, Avilucea, and Shaath) In addition to the trauma aspect, this team offers exposure to high volume elective joint replacement including primary knee and hip arthroplasty. Dr. Haidukewych also has an extensive revision hip and knee arthroplasty practice.
Green Team (Drs. Langford, Kupiszewski, and Munro) In addition to the trauma aspect, this team offers exposure to many foot and ankle procedures and limb deformity correction through Dr. Langford's practice. Furthermore, both Dr. Munro and Langford routinely perform anterior total hip arthroplasties as well as total knee replacements. The Green Team also offers our residents their first exposure to orthopedic sports medicine surgery through Dr. Kupiszewski with multi-ligamentous knee reconstructions, as well as various shoulder and knee arthroscopies.
Adult Reconstruction
Led by George Haidukewych, MD, the joint reconstructive service offers a comprehensive experience for the resident in both clinical and surgical joint reconstruction. Residents are exposed to a variety of joint disorders, which include but are not limited to total joint procedures, degenerative osteoarthritis, rheumatoid arthritis, posttraumatic arthritis, osteonecrosis, dysplasia, and hemophilic/sickle cell arthroses.
Pediatric Orthopedics and Pediatric Trauma
Pediatric orthopedics has traditionally been a strong aspect of the residency going back to the original founding of the program in 1957. Led by Drs. Herrera-Soto and Toledano, as well as a highly skilled traditional faculty of three fellowship-trained pediatric orthopedic surgeons, the program is based at the nationally recognized Orlando Health Arnold Palmer Hospital for Children, which is the only Level 1 Pediatric Trauma Center in Central Florida.
Foot and Ankle
Office, surgical and non-surgical experience is gained in this dedicated rotation with Steven Choung, MD, who is a foot and ankle fellowship trained orthopedist. Dr. Choung's practice is quite extensive, as he is one of only two fellowship trained Foot and Ankle orthopedists in the metro Orlando area. Foot and ankle surgery of children is also learned during the rotation with the pediatric orthopedic service as well as the rotations of the general orthopedic service.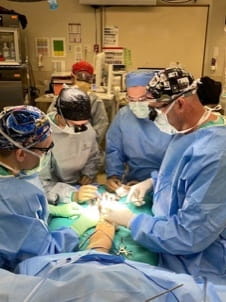 Hand & Upper Extremity Surgery
The Hand surgery rotation is led by Brett Lewellyn, MD and it's one of the busiest services at Orlando Health. Along with Dr. Lewellyn, residents work with Drs. Zumsteg, Nguyen, Desai and Gasner on a regular basis. Residents receive a high operative volume as well as balanced training with regards to hand trauma and elective procedures over the entire upper extremity including shoulder arthroscopy and arthroplasty. This Rotation is usually 75% OR time with 25% clinic time. All of our hand attendings are trained in microvascular surgery and take level one hand call covering a large area spanning North and Central Florida.
Musculoskeletal Oncology
Diagnosis and management of orthopedic oncologic disease is included in the general orthopedic service rotation and during a musculoskeletal tumor rotation at UF Health in Gainesville. While in Gainesville, the residents work with Mark Scarborough, MD, Parker Gibbs, MD, and Andre Spiguel, MD, all of which are fellowship trained in this specialty. Lectures in musculoskeletal pathology and treatment are given throughout the year by these individuals and in addition the residents in the PGY-4 year attend an annual off-campus musculoskeletal conference directed by Dr. Scarborough. While in Gainesville, housing, food, and travel expenses are provided for the fourth-year resident during this rotation.
Spine
The exposure to surgery of the spine, spinal trauma and spine deformities is initiated as an intern with the Neurosurgery rotation working with with Drs. Matheus and Hirschl. It is expanded upon during both during the pediatric rotation. The adult spine rotation occurs during the third-year residency and is an excellent collaboration between the neurosurgery group as well as Drs. Silverstein, Flynn and Stewart who are all fellowship trained orthopedic spine surgeons.
Sports
The Sports rotation focuses on diagnosis and management of athletic injuries and is a collaboration of both academic faculty and community private practice surgeons all trained in sports medicine. In addition to attending clinics and performing pediatric and adult related sports medicine surgeries, residents on this rotation attend various sporting events including coverage of high school athletics, as well as, Orlando City Major League Soccer games. The residents receive training in arthroscopy on this rotation, as well as on the general orthopedic rotation, the hand & upper extremity rotation and during a month rotating with Drs. Petrie and Service who perform hip, knee, and shoulder arthroscopy.
Approximate Case Volume
Adult reconstruction including (hip, knee, and shoulder arthroplasties) - 400
Sports Medicine - 600
Trauma - 600
Hand and Upper Extremity - 600
Spine - 100
Foot and Ankle Reconstruction - 70
Pediatrics - 200
Tumor - 20
Total Cases - 2,600