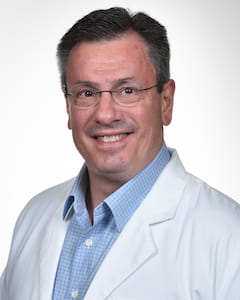 Stanley Kupiszewski, MD
Associate Program Director, Orthopedic Residency, Adult Orthopedics
Stanley Kupiszewski, MD, MS, FAAOS, is a board-certified orthopedic surgeon, serving patients at both Orlando Health Orlando Regional Medical Center (ORMC) and Orlando Health South Seminole Hospital.
Dr. Kupiszewski earned his medical degree from the University of Florida in Gainesville, Florida, where he also completed his graduate degree in mechanical engineering. Dr. Kupiszewski completed his general surgery internship and orthopedic residency at Orlando Health ORMC. He then fulfilled a fellowship in spine surgery at Florida SpineCare Center in Orlando, Florida.
In addition to evaluating and treating general orthopedic surgery patients, Dr. Kupiszewski's specific interests include knee and shoulder dislocations, arthroscopic surgery and joint replacement surgery.
He is an active member of several organizations, including the Florida Orthopaedic Society, the American Academy of Orthopaedic Surgeons and enjoys speaking at conferences.