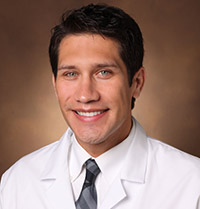 Frank Avilucea, MD
Adult Orthopedics
Frank R. Avilucea, MD, is a fellowship-trained orthopedic trauma surgeon with the Orlando Health Orthopedic Institute. Certified by the American Board of Orthopaedic Surgery, Dr. Avilucea focuses on the care of pelvic and acetabular fractures, complex periarticular fractures, limb deformity, nonunion fractures, hip and knee replacement (joint arthroplasty) and multiple trauma patients.
Dr. Avilucea earned his medical degree from the University of New Mexico School of Medicine, Albuquerque. He later completed an orthopedic surgery residency at the University of Utah, Salt Lake City, where he served as administrative chief resident. He went on to complete an Orthopaedic Traumatology and Post-Traumatic Reconstruction fellowship at Vanderbilt University in Nashville, Tennessee. Additionally, Dr. Avilucea has been recognized nationally with the Limb Lengthening Reconstruction Society traveling fellowship.
Prior to joining Orlando Health, Dr. Avilucea served as an assistant professor of orthopedic surgery for the University of Cincinnati. He is currently a reviewer for the Journal of Bone and Joint Surgery and the Journal of Orthopaedic Trauma. He is a member of the American Academy of Orthopaedic Surgeons, the Orthopaedic Trauma Association and the Mid-America Orthopaedic Association. Dr. Avilucea remains actively involved in clinical research and medical education.