Emergency Medicine Residency Research
Academic Clinical Research
There are many exciting research opportunities for residents in our program. The program's research curriculum is quite unique in that it gives residents the opportunity to conduct research based on their career aspirations, whether their interest is in becoming a full-time clinician, a clinician-educator or an academic researcher.
Clinical research is well integrated into the entire curriculum so residents learn about research on a regular basis and are taught how to incorporate it into practice. Evidence-based medicine comes in the form of lectures, interactive discussions, reviewing articles in journal club as well as in clinical practice.
Resident Scholarly Project
As part of RRC requirements, all residents are to complete a scholarly project before graduation. We encourage residents to begin preparing their scholarly projects early in their residency and we provide lots of faculty support throughout the process. Residents often submit their work to the annual scientific meetings of the Society for Academic Emergency Medicine (SAEM) and the American College of Emergency Physicians (ACEP). There are also opportunities for international meetings.
Current Research Topics
| | |
| --- | --- |
| Capnography / End-Tidal CO2 | Abscess Drainage Techniques |
| ED and Prehospital Cardiac Arrest | Sepsis |
| Adult and Pediatric Trauma | Antibiotic Use |
| TBI and Concussion | Disaster Medicine / Mass Causality Triage |
| Biomarkers of TBI | Quality Improvement and Patient Satisfaction |
| ED and Prehospital Airway Management | EMS and Prehospital Care |
| Procedural Sedation | Acute Poisoning and Toxicology |
| EM Residency Education | Drowning |
| Sports Medicine | Pain Management |
| Ultrasound | Thromboembolic Disease |
| Simulation | Radiation Exposure from Medical Imaging |
| Acute Stroke | Opioid Prescribing Practices |
Research Publication Highlights
Link to 2021 Peer Review Publications
Patient Safety Initiatives Driving Quality Research
There are a number of Quality of Care and Patient Safety Initiatives within the Department of Emergency Medicine at ORMC. These initiatives are driving a significant number of research projects. EM was the leading specialty within our hospital system in both number and awards won for top quality presentations at the Quality Retreats over the last 3 years. Projects were either lead by and/or had strong resident participation. Take a look at posters displaying our Quality Research Initiatives.
Research Grants/Award Highlights
There are several ongoing federally funded and large-scale research projects that are part of our residency.
End-Tidal Carbon Dioxide Levels (ETCO2) as the Sixth Vital Sign
Dr. Sal Silvestri was considered a leader in the field of ETCO2 monitoring in the prehospital setting and the emergency department. He studied ETCO2 as a potential sixth vital sign for several years. A large-scale study is currently underway in the Department of Emergency Medicine at Orlando Regional Medical Center to evaluate the role of ETCO2 at triage. The study is being led by Dr. Jay Ladde in collaboration with Drs. Chris Hunter, George Ralls, Joseph Thundiyil, Susan Miller, JV Roa, Alexa Rodriguez, and Linda Papa.
Orlando Regional Medical Center - Part of New National Institutes of Health Emergency Medicine Collaborative Research Effort
Orlando Regional Medical Center Department of Emergency Medicine joins an elite group of institutions selected for the Strategies to Innovate EmeRgENcy Care Clinical Trials Network (SIREN), partnering with five other experienced institutions: Emory University, Brown University, Tufts University, University of Texas Health Science Center at Houston, and the University of Arizona to create the CORE-EM (COalition for REsearch in Emergency Medicine) Hub Alliance. This new NIH Clinical Trials Network will conduct large multi-site clinical trials to improve outcomes for patients with neurologic, heart, lung, blood and trauma emergency events, in all stages of emergency care. SIREN is the successor network of the NIH Neurological Emergencies Treatment Trials Network (NETT) and the NIH Resuscitation Outcomes Consortium (ROC).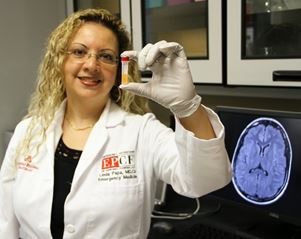 Orlando Regional Medical Center Department of Emergency Medicine Awarded $3.6 million National Institutes of Health Grant to Evaluate Biomarkers for Pediatric Mild Traumatic Brain Injury
Investigators in the Department of Emergency Medicine at Orlando Regional Medical Center are currently conducting an R01 investigator-initiated study led by Dr. Linda Papa and sponsored by the NINDS, to evaluate biomarkers in children and youth with mild traumatic brain injuries/concussion. The goal of this study is to develop a blood test to help diagnose and treat children with mild traumatic brain injury.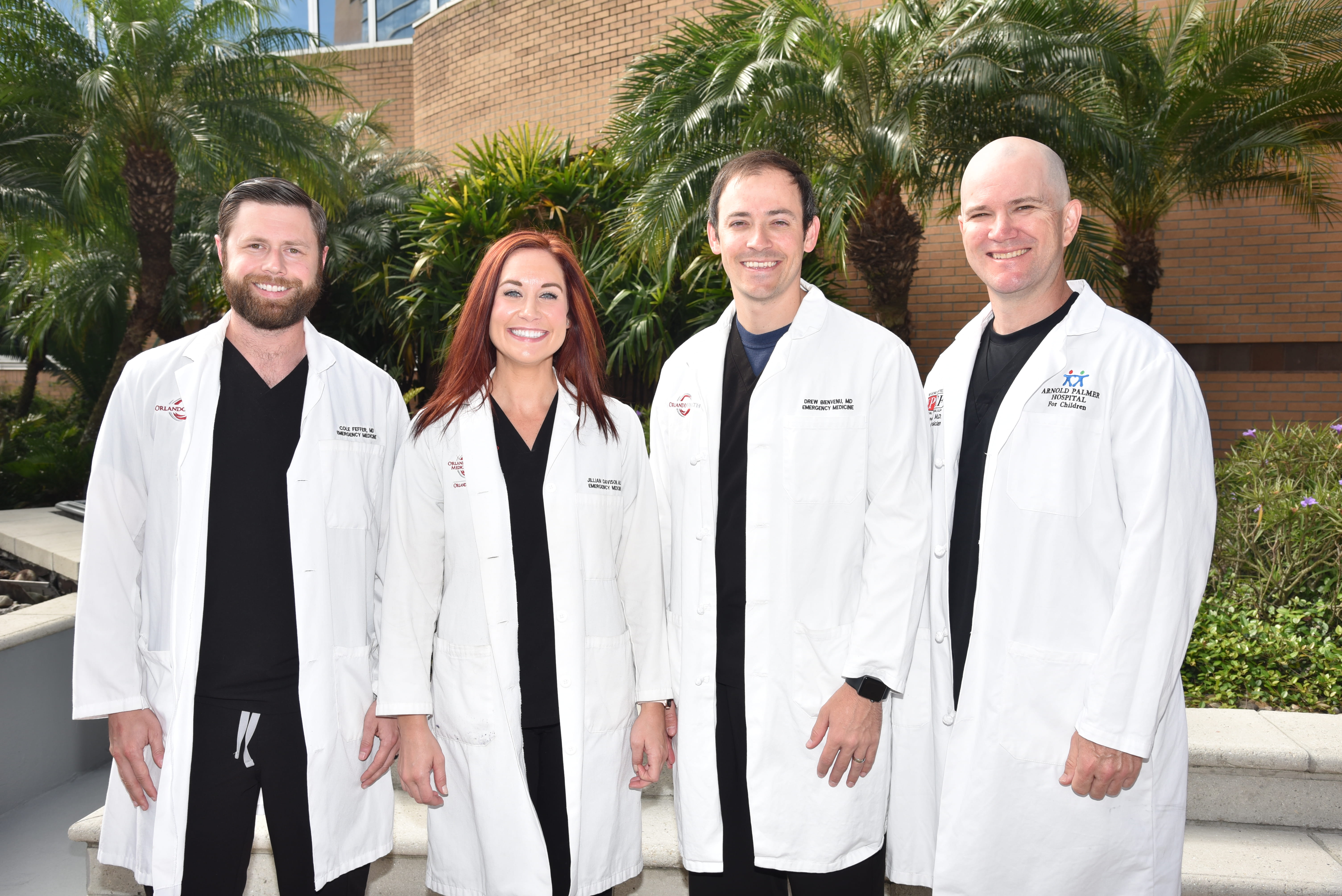 Pulmonary Embolism Short-term Clinical Outcomes Registry (PE-SCOR)
Drs. Stephen Leech and Jillian Davison are site investigators for the multicenter PE-SCOR study. This study is prospectively assessing outcomes related to pulmonary embolism (PE) that occur within 5 and 30 days to develop the Pulmonary Embolism Short-term Clinical Outcomes Registry (PE-SCOR). The study is validating prediction models that include right ventricle dysfunction (RVD) and clinical risk assessments to predict clinical deterioration and functional outcomes.
Research in the News
Study:
U.S. NEWS & WORLD REPORT: Evidence of Brain Injuries Present in Football Players at Young Ages
TIME: This New Blood Test Could Detect Concussions
NBC NEWS: FDA Approves New Blood Test To Detect Concussion
Research Fellowship
ORMC's academic research fellowship is designed to provide training in clinical research for outstanding candidates who are interested in an academic research career as clinician scientists or clinical investigators.
If you have any questions regarding academic research in our department, please contact Linda Papa, MD at 407.237.6329 or email: [email protected].
res